Underdog is a top fantasy ball website with plenty of individual games for all sports lovers. It's the ideal app for any experience level and offers enormous payouts for specific games. One requirement to sign up and cash out is information verification.
So, how does the verification process work? Keep reading to find out more about successfully submitting your details for Underdog verification. 
Backed by Mark Cuban, Adam Schefter, Kevin Durant, Matthew Dellavedova, and more!
Use Paypal Or Any Popular Payments
$100 Money Back Guarantee (Terms & Conditions Apply)
24/7 Support
Use Promo Code 'DFF' For a Match Bonus Of Up To $100
Sportsbook, Casino & Racetrack All On One Platform
125% Sign-Up Bonus & 200% Crypto Bonus
Fast & Easy Deposits
24/7 Personalized Service 365 Days A Year
Why Choose Underdog Fantasy?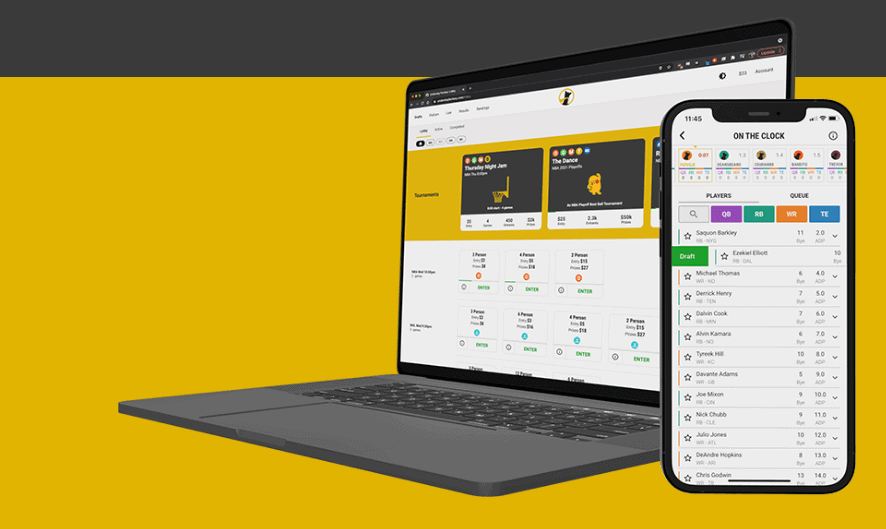 Underdog Fantasy is one of the most popular and rapidly growing sites that allow players to participate in fantasy sports betting. They feature many of the most popular sports games fans love, such as the NHL, NFL, and NBA. Its user-friendly dashboard and around-the-year seasons set Underdog apart from other fantasy sports betting sites.
Underdog Fantasy provides easy entry, and signing up for matches is a breeze. Underdog Fantasy also makes the withdrawal and deposit process exceptionally easy. The sign-up and verification only take minutes and provide a streamlined experience.
Another feature that makes them an attractive fantasy sports option is their player rules and security. They strive to make the site fair for all players to participate and grant them ample chances to win. Instead of a few top-level pros dominating the games, even new players can participate and win.
Underdog Fantasy also provides a high level of security to ensure every player can sign up and play safely. Encryption is provided for all player information and identity submissions, as are all financial transactions.
It's one of the best and safest fantasy sports sites operating today. Those fantasy ball players tired of the other questionable sites with less than stellar security, rules, and support will be pleasantly surprised.
How Underdog Verifies Your Information
The process of verification on Underdog Fantasy is pretty straightforward. It's worth noting, however, that not everyone will have the same experience on the platform while undertaking the verification process. You need some key pieces of detail you submit online for instant verification in most cases.
Complete the Verification Process
Once you sign up for Underdog Fantasy, you'll need to follow these steps to begin playing and winning. Keep reading to learn more and details about any information you need to verify with this site.
Sign Up
The first thing you need to do is sign up on the Underdog Fantasy website. You'll enter a nickname or username. You can select any two or more numbers or letters.
You'll also be asked to provide a passport. Once you enter those details successfully, you'll need to verify your email address. Upon finishing these steps, you log into your account to begin the next steps in the verification process.
Allow Notifications
When you're in the process of creating an account, you need to allow notifications and location. Otherwise, you can't finish signing up and playing games.
Provide your Address
Underdog needs your specific address details. This information is used to verify your state and eligibility to play. Some states can't participate, so this part is essential. Check the rules and terms from the drop-down menu to see if you can play in your state.
Enter Your Birth Date
Finally, you enter your birthday to wrap up the basic verification process. Once you provide these details and click "verify," you complete the basic verification process. However, you may be asked to provide additional information.
Why Underdog Fantasy Needs Your Social Security Number
When Underdog requests your social security number, it's a measure to prevent fraud and ensure your transactions are secure. This information is also necessary to withdraw money and winnings.
Tax and Withdraw Information
You'll need to supply some information when you want to withdraw. This set of details includes your address. You'll also need to provide your social security number.
How To Connect Payment Methods
To begin playing, you need to supply PayPal or credit card information. To use a debit card, link it to your PayPal for easy automatic payment from your bank. You can easily add money through these methods once you make payments.
WhereIs Underdog Fantasy Prohibited?
Underdog is available in most states. However, there are a few who are excluded from participation. These states include the following.
• Louisiana
• Nevada
• Montana
• Hawaii
• Washington
• Iowa
• Connecticut
However, Underdog is available throughout Canada. See a complete write up here.
What Are The Methods Of Security On Underdog Fantasy?
There are many ways Underdog protects customers and their money. Verifying information is just one of the security layers. They use encryption for all transactions to make using the app safe and secure for everyone.
Additionally, they may require further investigation of new player details or transactions. The goal is to provide the best and safest experience online.
What If There's An Issue With My ID Verification?
Sometimes, additional information or investigation is necessary to verify a customer. It may be related to their location or banking information.
There may also be issues with their email, social security number, or tax information. In those instances, the indivisible may receive a message to contravention support or more information by reaching out directly.
Conclusion
If you're interested in playing fantasy sports but hesitated because of a bad stint playing elsewhere or stories friends passed along to you, don't worry.
You'll have a completely different experience. From the beginning, everything is simplified and clear to players.
The rules and privacy details are readily available from the menu, and there is top-notch support should any issues arise. When you sign up, identification verification is required for everyone.
The site asks for your address, name, and email address. Then, you'll need to provide tax details so you can withdraw money.
You'll also need to provide a funding source to get started playing. All you need is a PayPal account or credit card to get started. Check it out today and take advantage of the promotions and various ways to win.