Surprisingly, some states don't allow DraftKings to operate because of their legislation process of betting and casino-related business models. However, you can download the DraftKings application. That's because if you live in a state that bans DraftKings yet visit a state which doesn't, you're able to place bets and collect rewards. But in what states is DraftKings legal in?
DraftKings is legal in most states, including West Virginia, Virginia, Tennessee, Pennsylvania, New Jersey, New Hampshire, Michigan, Lowa, Indiana, Illinois, and Colorado. Approximately there are around 12 states that don't legalize DraftKings for online betting.
From the above, you should have a better visualization of what states allow DraftKings. As you can see, it's around half.
Backed by Mark Cuban, Adam Schefter, Kevin Durant, Matthew Dellavedova, and more!
Use Paypal Or Any Popular Payments
$100 Money Back Guarantee (Terms & Conditions Apply)
24/7 Support
Use Promo Code 'DFF' For a Match Bonus Of Up To $100
Sportsbook, Casino & Racetrack All On One Platform
125% Sign-Up Bonus & 200% Crypto Bonus
Fast & Easy Deposits
24/7 Personalized Service 365 Days A Year
Top Rated Daily Fantasy App
Underdog Fantasy is our pick for users looking to try a new and exciting daily fantasy sports experience.
Backed by Mark Cuban, Adam Schefter, Kevin Durant, Matthew Dellavedova, and more!
Use Paypal Or Any Popular Payments
$100 Money Back Guarantee (Terms & Conditions Apply)
24/7 Support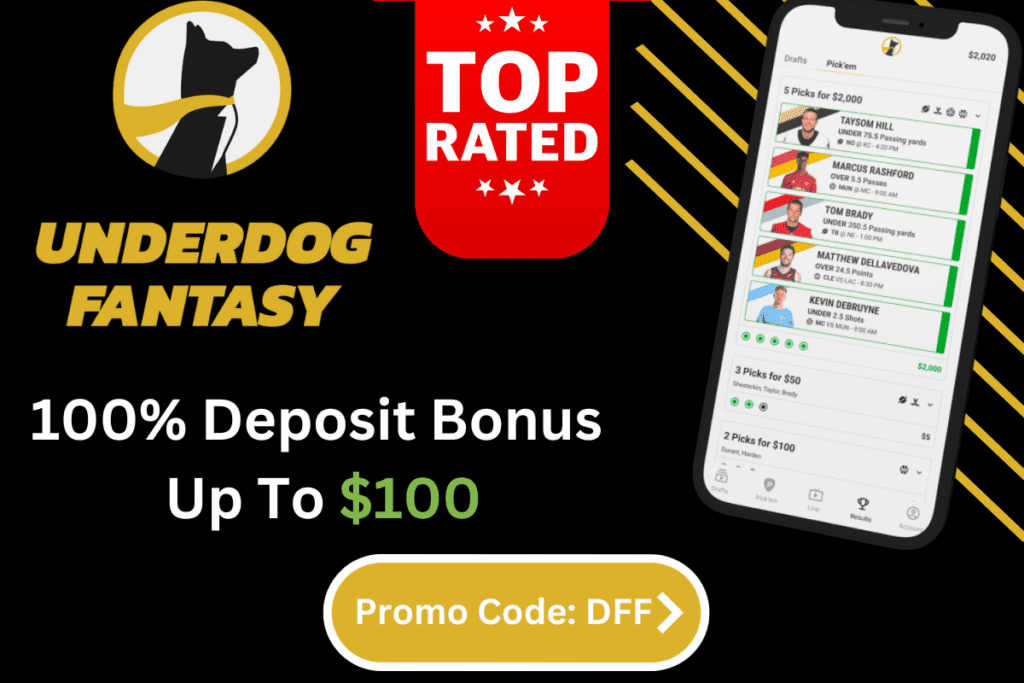 What States Is DraftKings Illegal In?
For the most part, we can say with certainty which states DraftKings is illegal, but in a couple of places, there is an ongoing legal battle to attempt to change the law and allow DraftKings to be used. Let's look at which those are.
First off, there is no federal law banning online fantasy sports betting, so states all make up their own minds about betting laws. Major DFS sites like DraftKings will not allow you to register if you are a resident of Alabama, Arizona, Hawaii, Idaho, Iowa, Louisiana, Montana, Nevada, Washington, and Utah. In these states, DFS betting is expressly against the law.
This is ten states which have outright bans on online betting, which obviously includes DraftKings. Other states have in recent years been introducing legislation to change the restrictions on online betting. It is currently legal to use DraftKings to make bets in Texas, but it was ruled in 2016 that DFS of any kind constituted gambling, so the situation could change.
The situation in some states is more fluid, and DraftKings is currently illegal only in states that have an outright ban on DFS or online betting.
Why DraftKings Illegal In Some States
Gambling has a long history, and public perceptions of the practice have been extraordinarily fluid and changeable over the years. When asking why DraftKings is illegal in some states, first, you should be aware that there is no specific legislation affecting DraftKings itself. Instead, lawmakers determine whether or not it falls under the guidelines of their already existing gambling laws.
Typically, the most straightforward answer to why DraftKings is illegal in some states is that those states are more culturally conservative. In the past, gambling was considered sinful, even an immoral act by some denominations of major religions. So, in more conservative states, politicians and the population are more inclined to legislate on these matters. Utah, for instance, has a large Mormon population.
Often, distinctions are made between different types of gambling and laws passed accordingly. DraftKings is obviously an online betting service, which is a much more recent phenomenon, and so the laws have had to change and adapt in recent years to accommodate this. This is part of why the situation is more fluid in some states than others.
Some states simply have no legalized gambling at all, like Hawaii. Others, like Vermont, have laws against casinos but not against online betting. Typically, laws about casinos do not apply to Native Americans. So, as you can see, it can all get a bit muddled. Different states make DraftKings illegal for different reasons.
See The Complete DraftKings 2021 Review & Guide Here
How Do I Get Around State Restrictions On DraftKings?
The best way to circumnavigate state restrictions on online betting is via a VPN. A VPN is a Virtual Private Network, and while there's certainly a lot of techno-babble involved in how they work, all you need to know is that a VPN will make it appear that your device which you use to play (desktop, phone, or tablet) is in a different location than it is.
To do this, the VPN sends your internet traffic through a secondary server and assigns you an IP (Internet Protocol) address from the other location instead. So, no matter where you are physical, your device will think it is somewhere else.
VPNs can be used for many things, and they're certainly the best way of getting around state restrictions on DraftKings.
While VPN's may be used to get around where your location is. It is HIGHLY recommended that you do not use a VPN. The information above is for educational purposes only.
While you may think you're getting away with using a VPN on DraftKings networks, you will not be able to deposit money.
DraftKings needs a valid address to send money to. You won't be able to prove it using a VPN. Again, we do not recommend you use a VPN.
If DraftKings is not legal in your state, we recommend you wait until it is or move to another state where it is legal.