In the world of fantasy sports, DraftKings is one of the premium picks. They cover the most sports, the largest number of contests to choose from, and have one of the most accessible interfaces I've ever used in online gambling. But what is Draftkings?
Draftkings is a daily fantasy sports contest and betting operator. The platform allows its users to enter daily and weekly sports-related contests with prizes, such as money. Draftkings is only accessible in some US states, and it's the most popular within its industry.
The folks behind DraftKings secured the right people for the job; if I wanted to create my own site and mobile application for real sports fans, then this is the platform I'd make. Every time I thought something needed improving, they've already chased it down and changed it. Now, just because this website is so unique and my favorite to play on doesn't necessarily mean DraftKings is the right choice for you (but I predict it will be, it's that good).
To find out precisely what the website has to offer, have a read-through of my thorough DraftKings 2021 review.
Backed by Mark Cuban, Adam Schefter, Kevin Durant, Matthew Dellavedova, and more!
Use Paypal Or Any Popular Payments
$100 Money Back Guarantee (Terms & Conditions Apply)
24/7 Support
Use Promo Code 'DFF' For a Match Bonus Of Up To $100
Sportsbook, Casino & Racetrack All On One Platform
125% Sign-Up Bonus & 200% Crypto Bonus
Fast & Easy Deposits
24/7 Personalized Service 365 Days A Year
What Is DraftKings?
DraftKings isn't the same as your regular fantasy football league that you play with your pals from around the neighborhood each football season.
While it's alike, there are a few significant differences. The most crucial difference is the length. When you take part in a "standard" fantasy sports league, you draft a team, and they stay with you for the whole season. You can trade and pick up players, but everything revolves around the original draft. But with DFS, leagues can last anywhere between a day and one week.
If you end up with a rubbish team, it doesn't matter as everything resets with each contest you enter. Gone are the days of being stuck with the injury squad for a whole year with no chance of making a win. If your team is terrible, you'll lose that particular contest, but you can start all over again that same day.
The other significant difference is with how you draft your players. In a regular fantasy sports league, no one else can have them once someone chooses a player. With DraftKings, they will allow anyone to take any player they desire. It doesn't matter to them if every single person has the same player on their team.
How DraftKings Works
So how does DraftKings work? Before each game begins, you are given a salary cap for your team. Every player in the league is assigned a dollar amount depending on how often the teams play. It's your job to fill your positions with players you want from the league, fill the required positions, and stay within your salary cap.
Say you're in DraftKings football, and you have $50,000 to choose your players; you need to fill the following positions: TE, WR, WR, RB, RB, QB, DST, and FLEX. It's your choice whom you pick to fill those positions. But bear in mind that the better the player, the more points they're predicted, the more they will cost.
Patrick Mahomes might be $7,200, while someone like Jalen Hurts is $3,600. It's on you to figure out whom to pick to get the best line-up and gain the most points. You can't just go ahead and gather up all the superstars; you won't have the money to fill every position.
Below is an example of what the baseball lineup looks like.
Plus, if everybody in the league chooses the same player, you don't get much value if that player scores points.
The points would get added to everybody's score at precisely the same time, and you wouldn't get ahead. Now you can begin to see where the strategies come in.
Two people in the league can have the same line-up, but it's unusual. If it were to happen, the prize money is split for the position the line-up gets.
Once you set up your line-ups (yep, sometimes you can have more than one entry in a contest), the scoring is very much like regular fantasy football. You gain points for all the good things your players do and lose points when they make mistakes.
Suppose a player gets suspended or hurt before a game begins. In that case, you can try and substitute them before kick-off with someone you can afford who hasn't started to play yet. Whichever line-up has the most points by the end of the set of games wins.
How To Deposit & Withdraw Money in DraftKings
How Do DraftKings Payouts Work? The Complete Guide
How To Pull Your Money Out Of DraftKings
How To Set Up A Bank Account On DraftKings: The Easy Guide
Why Is DraftKings Great?
What's so great about DraftKings is that lots of their contests have a ton of small buy-in entries. Just look at the $20 buy-in Sunday NFL tournament every single week. How much would you expect the prize to be in a $20 tournament? $100? $500? $10,000? How about a million bucks?
That's not a typo; you can win $1,000,000 every Sunday for just a $20 buy-in. If that alone isn't a big enough reason to dive into DraftKings, I don't know what is. Is $20 too much? How about the $3 Sunday tournament, where the first prize is $200,000? For just $3, you could walk into a brand new week at $200,000 richer.
How Does DraftKings Verify Your Identity? Learn Here
Top Rated Daily Fantasy App
Underdog Fantasy is our pick for users looking to try a new and exciting daily fantasy sports experience.
Backed by Mark Cuban, Adam Schefter, Kevin Durant, Matthew Dellavedova, and more!
Use Paypal Or Any Popular Payments
$100 Money Back Guarantee (Terms & Conditions Apply)
24/7 Support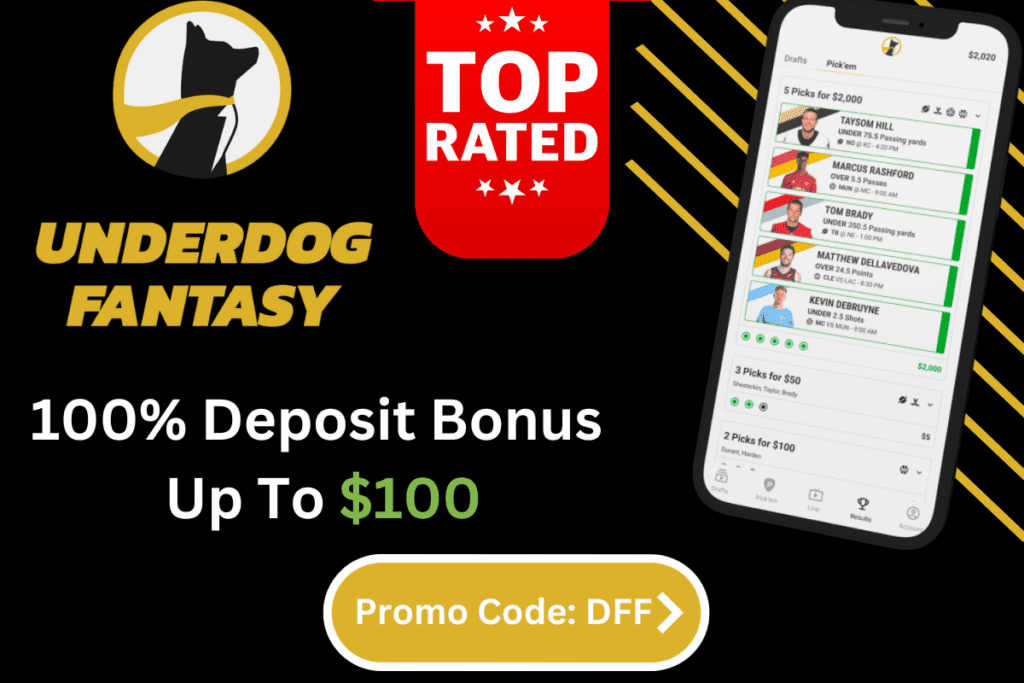 How Do You Play Draftkings?
Once you've put money into your DraftKings account, you can then begin to have a look around and enter some paid contests. DraftKings hosts many different sports and contest classes, so starting can feel slightly intimidating. I'll walk you through the steps of entering a contest as if I were a brand-new DraftKings member.
Pick a Sport
One of the most significant aspects of the DraftKings spread is the diverse range of sports. I must be honest, in any case. I assumed that there would be maybe one or two contests to choose from in the minor sports and that the majority of the action would be with football, basketball, and baseball. But boy, was I delightfully wrong.
Each of the many sports DraftKings is offering action on is loaded with options. At the time of this review, they have 14 different sports to choose from. Each sport has multiple options to choose from, and each with a unique scoring system. You can select each sport from the top of the homepage.
Every sport has an abbreviation. I've listed below the sport that each one represents.
Golf – Golf
MLB – Major League Baseball
NBA – National Baseball Association
NAS – NASCAR
NHL – National Hockey League (NHL)
NFL – National Football League (NFL)
MMA – Mixed Martial Arts (MMA)
SOC – Soccer
CFL – Canadian Football League (CFL)
LOL – League of Legends
TEN – Tennis
CFB – College Football
EL – Euro League
WNB – WNBA
Some sports won't be available depending on when you sign up for your account. Usually, DraftKings leagues run through the preseason, regular season, and end-of-season championships.
Essentially, there will always be plenty of action in your favorite sport as long as they're on a field or court somewhere. Inside the DraftKings lobby, you'll see the navigation bar with all the sports available. Sports that are not available will appear slightly faded.
Enter Contests
Within the Lobby, you can apply many filters to narrow down the list of contests available. DraftKings holds an immense number of contests, so it's essential to understand how to use filters efficiently. Your bankroll, confidence, and risk tolerance all change the type of contests you can enter. For instance, your bankroll may endure much longer playing only Head-to-Head games, but you could win a lot more money in a Tournament.
Currently, DraftKings has nine regular contest types. Each type has its own set of rules, risks, and pay-out.
Featured – The most notable (and highly marketed) contests, where most have guaranteed prize pay-outs (GPPs)
Beginner – If you've played fewer than 50 contests in one sport, you can play against other beginners in that same sport
Tournaments & Leagues – Battle against large and small groups to win prizes
Head to Head – You stand against a single contestant; winner takes all
50/50s – You only have to complete in the top half of the field to win a pay-out
Double-Ups – If you win, you double up on your entry fee
Multipliers – Win these, and you increase your winnings up to 10x
Satellites – Play satellites to win a free entry into higher stakes contests (with larger pay-outs)
Qualifiers – These allow one entry into a Championship contest.
Configure Lineup
You'll need to draft a player line-up based on the contest you pick. The plan is to create a line-up that will produce the most amount of points.
Pro tip: Use a line-up optimization tool to help you build winning drafts. Optimizers, like Run Pure Sports, are great to help pick the players who have the highest ceiling.
Track Results
Once you settle on your draft, it's time to watch your team, record results, and calculate your pay-outs. You can control all of these tasks through the contests page.
This interface makes it straightforward to monitor contests being played, coming up, and how well you've achieved in completed contests.
What Are Tickets in DraftKings? Explained
What States Is DraftKings Legal In?
What Are Crowns in DraftKings? Learn Here
What Do The Green Checkmarks Mean on DraftKings?
Why You Never Win On DraftKings: Common Mistakes Made
How Much Does DraftKings Cost?
It's easy to move money in and out of DraftKings. Once signed into your account, you can see the cashier function in the upper right of the screen. There are a few banking methods, so you should have options at hand to fit your needs.
Here are the most up-to-date ways you can use to deposit on DraftKings:
Credit cards: American Express, Mastercard, Visa, or Discover
Gift cards: Mastercard, Visa, or American Express
PayPal
The minimum deposit for DraftKings is $5, and the maximum is usually $2,000. It's important to note that restrictions can be set on monthly deposits depending on the jurisdiction. You can find more details in the "Update Deposit Limits" link on the Cashier page.
DraftKings' policy is to refund the payment source used for deposits within the past 90 days on the withdrawal side. If you have issues around no longer having access to a card or account, get on the line with customer service before you want to withdraw, they are very supportive.
As soon as the refunds are processed, DraftKings pays out the balance via check or PayPal. PayPal transactions are usually fulfilled within two business days, while check payments take up to seven to 10 business days to process.
Are Cash Outs Quick On DraftKings?
With DraftKings, there are some things you'll want to know when it comes to your withdrawals. Firstly, the options to withdraw are as follows:
While there are just two options, these should be enough for you to get your money. They will firstly refund your deposit back via your original payment method. Then the rest of your winnings via PayPal or check. What does this really mean?
Well, suppose you deposit $100 from your debit card, and you win $5,000. You decide to withdraw $3,000 and leave the rest in your DraftKings account to play with. The first $100 of that $5,000 will be credited back to your debit card. The remaining $2,900 will be sent to you by PayPal or by check.
Cashing out by PayPal can take between 2-8 business days, while checks can take up to 2-3 weeks to be delivered.
Bear in mind that you will need to fill out a W-9 before cashing out. This is a form DraftKings use to report all your winnings to the IRS. So yes, you may be expected to pay taxes on your earnings if you win enough. Let's face it; it's an excellent problem to have.
Which Countries Can Legally Play DraftKings?
DraftKings is legal to play in most US states. Still, it is not currently permitted to play in
Washington
Nevada
Montana
Louisiana
Idaho
Hawaii
Arizona.
Laws have changed recently in Alabama and Iowa, so DraftKings is now available to play there.
As well as Canada, Draftkings has also expanded into Europe, allowing people in:
United Kingdom
Ireland
Germany
Austria
and Malta.
Overview Of DraftKings
| | |
| --- | --- |
| DraftKings topic review | Best daily fantasy sports app for beginners and intermediate players |
| Website interface | I find the current website design to be intuitive and enjoyable. It's simple to navigate to the sport and contest you're searching for. Selecting a roster is easy. I couldn't ask for more. |
| Options for deposits | Depositing new funds is very simple and available to most major credit cards and PayPal. |
| Withdrawal timing | Withdrawals are pretty standard for a DFS site. You can withdraw using PayPal or Check. PayPal arrives in 2-5 Days and checks in 7-10 days. |
Learn more about DraftKings by reading these articles below
What Is DraftKings Flash Bet? Learn Here
DraftKings Can't Find My Location [How To Fix]