Online sports betting has been popular for a really long time. There are many iterations of this game. The fastest-growing one is the fantasy sports league. By utilizing this idea, monkey knife fights have become one of the US's fastest-growing online fantasy sports leagues.
Monkey knife fight is an online platform where you can make predictions on your highly anticipated matches from your favorite sport. The predictions are based on real-life knowledge of the game, current circumstances, and the caliber of the individual player.
For a sports enthusiast, MKF has a lot to offer you. You will need explicit knowledge of fantasy sports leagues, and what monkey knife fight offers to win it all. Keep on reading to get a grip on this fastest-growing platform and use it to start cashing in today.
Backed by Mark Cuban, Adam Schefter, Kevin Durant, Matthew Dellavedova, and more!
Use Paypal Or Any Popular Payments
$100 Money Back Guarantee (Terms & Conditions Apply)
24/7 Support
Use Promo Code 'DFF' For a Match Bonus Of Up To $100
Sportsbook, Casino & Racetrack All On One Platform
125% Sign-Up Bonus & 200% Crypto Bonus
Fast & Easy Deposits
24/7 Personalized Service 365 Days A Year
What Are Daily Fantasy Sports?
To realize what monkey knife fight daily fantasy sports is, we'll first have to understand the concept of fantasy sports. There is a fixed amount to participate in the fantasy league, which is nonrefundable. The prize pool comes from the total accumulation, and that's why many consider it similar to betting.
But it is not. Bets depend on chance or luck. You don't have any control over the outcome. At the same time, fantasy sports depend on knowledge of the game, discretion, and prudence.
In fantasy sports, fans or those who play fantasy sports assemble a team of real players on a virtual platform. Note that you can play fantasy sports only during a real-time sports event. The attributes of the players will determine based on their real-life performance.
A built-in AI converts the players' real-life performance to virtual points after each game throughout the tournament. Thus, after every match or after the tournament is finished, the team with the most points wins and is awarded a portion of the prize pool on behalf of the platform.
It is not as straightforward as my explanation may sound. Multiple teams are participating in the fantasy event. The teams have managers and analysts who work tirelessly to figure out the outcome. Also, there are transfer windows where teams exchange or buy and sell players. This is way more serious than it sounds since it is a billion-dollar industry.
There is a fixed amount to participate in the fantasy league, which is nonrefundable. The prize pool comes from the total accumulation, and that's why many consider it similar to betting.
What Is Monkey Knife Fight Daily Fantasy Sports?
Monkey knife fight fantasy sports is similar to daily fantasy sports but with a twist. It is somewhere in the middle between sports betting and fantasy league.
MKF offers different game modes and all the major sports in the US. You pick your favorite sports and choose a game mode using your diligence.
There are multiple anticipated outcomes that you will have to choose from. This is where MKF is different from traditional sports betting. It's not just simply picking which team would win or lose or the margin.
There will be specific performances and predictions relating to specific players. You have to choose whether that prediction will occur or not, judging from the player's caliber, their recent performances, and the significance of the match per tournament.
Scoring in different games works differently. So let me give you a universal example. If you choose game A, there will be a prediction whether player 'X' will score more than 30 or not. Similarly, there will be another prediction of whether player 'Y' will score more or less than 25.
There will be no less than two predictions for each game. MKF offers a specific payout for each prediction. If there is a 2x payout, then you win two-fold the entry prize. The payout depends on the difficulty of the prediction.
Sports
Currently, MKF offers fantasy sports on 8 sports across the US. They offer a much wider variety of sports because each sport has a different fanbase. No one person follows all the sports.
So, they wanted to build a platform that is fair to everyone. There is one esports title among the eight.
Baseball
Basketball
Women's Basketball
Soccer
Golf
DOTA 2
NASCAR
UFC
Football
Games Modes
There are 3 different game modes available on monkey knife fights. The three modes throw different types of a challenge at the participant. I will discuss each in detail so that you have a better understanding of the modes:
More or less: More or less is the simplest of all three and suitable for all, especially newbies. After you select a specific sports event, there will be two or more predictions. You will have to choose if the player or the team will go beyond the set prediction or fall short.
Suppose the sport is golf. The prediction can be something like if player 'A' will have more strokes than 67 or less. The second one could be if player 'B' will have more than 64 strokes or less. You'll have to predict both and choose a buy-in amount. The MKF will reward you according to the specific payout they offered for that match if you win both.
Rapid Fire: Rapid Fire is similar to more or less, just on a higher level. There will be two athletes with a set prediction. Let me explain from the same example of golf. The prediction can be which of the two players will score more strokes. There will be multiple columns, and you'll have to pick all and get all correct to win.
There is a subtle change in this game mode. It might seem easy to pick either athlete depending on their recent or overall performance. To even it out, Monkey knife fight gives some advantage to the weaker athlete. If 'a' is the weaker one in recent performance, he will be supposedly given a 1.5 advantage.
This means player 'B' will only win if he has 1.5 more strokes than player 'a'. 0.5 or 1.0 more strokes won't result in a win. Thus, MKF will give different degrees of advantage to the weaker players in a single RapidFire game of any sport. You will have to win them all to win the payout.
Stat shootout: Stats is a different game mode among the three. It comes in different shapes for different sports. You get to pick three players, and you'll be given three specific goals and payout. The three players you picked will have to exceed the specific goal collectively. Only then will you get the specific payout amount of your initial buy-in price.
Top Rated Daily Fantasy App
Underdog Fantasy is our pick for users looking to try a new and exciting daily fantasy sports experience.
Backed by Mark Cuban, Adam Schefter, Kevin Durant, Matthew Dellavedova, and more!
Use Paypal Or Any Popular Payments
$100 Money Back Guarantee (Terms & Conditions Apply)
24/7 Support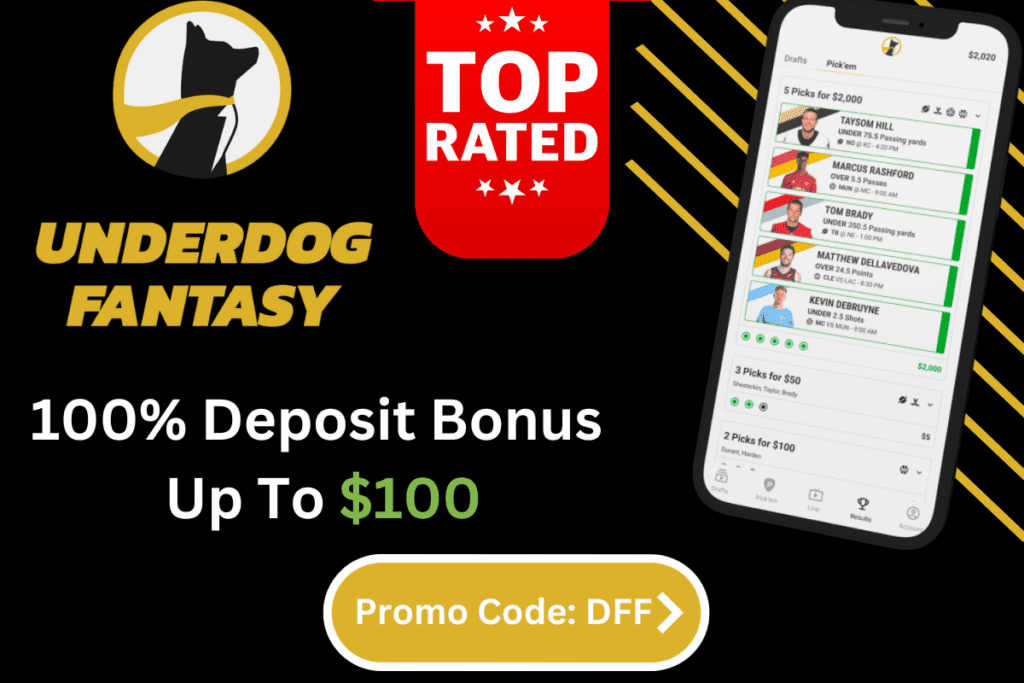 Features
MKF is full of features that make them different. Here are some of their features that are worth mentioning:
Easy deposit: Monkey knife fight features an easy deposit method. It accepts credit and debit cards from any major provider. Currently, the card is the only option to make a deposit. There is also a cap for how much you can deposit to don't get carried away.
You can deposit 1000 dollars a day, 5000 dollars a week, and 10000 dollars a month. However, you can contact customer support if you want to increase your limit. The minimum deposit is 10 dollars. There is no additional fee for card transactions.
Easy withdrawal: Their withdrawal method is also very user-friendly. Navigate to my account > withdraw, then select your desired amount. The minimum amount for withdrawal is 20 dollars. The original deposit account is paid to the deposit method, which is a credit or debit card.
The rest of the fund is paid via ACH or Intercheck. PayPal isn't an option yet, but they are working on it. The process usually takes 3 to 5 working days and a maximum of 90 days. If your card is expired, then the cash out will be credited to the newly added card in your account.
If you win over 600 dollars in a calendar year, you will have to provide a valid mailing address and social security number. The maximum withdrawal amount for ACH is 1000 dollars, and Interchecks is 5000 dollars.
Good customer service: one of the main reasons behind the growth in popularity of monkey knife fights is their excellent customer support. They have a live chat option on their website. For parental controls, parents can also contact them via email or their toll-free number.
They also have a board support section divided into different categories such as general FAQ, contest rule FAQ, terms and conditions, etc. There are also separate sections for information about fantasy points and deposit and withdrawal.
The FAQ section covers almost everything that you won't even have to contact customer support directly. Their call center is also accommodating.
Responsive website: their website is fantastic and sure to attract the attention of any first-time visitor. On the homepage, they have put a small section explaining how to play. The sidebar allows you to navigate to any section of the site.
You can sign up, log in, and add or withdraw funds from the sidebar. You can also directly go to the sporting section. They have wonderful merch on their website at an attractive price. You can download their mobile app from the homepage as well.
Mobile app: whether you are a computer or mobile guy, monkey knife fight has options for both. They have an app for both android and iOS. You can quickly switch between various features in the mobile app.
The app may not look very stylish or polished, but it sure gets the job done. They have made the interface very simple to make it user-friendly. The best part of this app is that it supports any smartphone and any firmware version. If the firmware is outdated, a user might find some functions delaying responding, but it works nonetheless.
Bonuses: MKF has many bonuses going on throughout the year for different sports. You also get a referral bonus if you refer to a friend. Note that you only get the bonus when your friend makes a deposit.
You get a 5-dollar signup bonus and a 100% deposit bonus of up to 50 dollars. However, there's a catch. The bonus will be deposited into your account as a percentage of your buy-in for each game. The amount is 4 percent. So, if you get a $50 bonus, you will have to spend 1250 dollars in buy-in to get the full bonus amount.
How To Play Monkey Knife Fight Fantasy Sports?
Although the procedure is pretty straightforward, a little guide on it can be beneficial. Here is how to play monkey knife sports step by step:
Step 1: Signup
First, sign up with a valid email address and a strong password. You will have to be at least 18 or 21 in some states to open an account, provided MKF is legal in your state.
Please fill in all the necessary options, then verify your account from the mail they send your email address.
Step 2: Make a deposit
From the sidebar, go to deposit. Choose the amount and the deposit method. The minimum amount is 20 dollars, and the maximum is 1000 dollars for a day.
The method can be credit or debit cards of major providers such as Visa, MasterCard, AmEx, etc. Currently, there is no other option.
Step 3: Choose your desired game
From the sidebar, select a new game. The following page will display available games for a specific sport that you can play that day. You can also switch among the sports from the top section of the page.
Suppose, if you choose the league of legends, you will be shown all the upcoming matches of the league of legends of a specific tournament. From there, choose the match you want to bet on. It could be the team you follow or the final match of any major tournament.
Step 4: Select game mode
On the next page, the site will display the prediction for you to make. You can change the game mode too, more or less, Rapid Fire or stat shootout. However, not every mode is available for every sport. You can switch among game modes from a dropdown menu at the top of the page.
After selecting the game mode, there is a subcategory for the selected game mode with varying payout options. It could be 2x, 3x, or 3.5x, etc.
Step 5: Make predictions
After choosing the game mode, it's time to make predictions. Be very well-judged and use your knowledge about the game and the current condition of the tournament at this stage.
Choose all the columns, or else you won't be able to reach the next step. For beginners, I recommend sticking to more or less game mode.
Step 6: Choose the buy-in amount
After that, you will be prompted to choose the buy-in amount. The amount varies depending on the type or heat of the match. It starts from 2 dollars and goes up to 1000 dollars or more.
Step 7: Submit
After following all the steps above, the website will prompt you to revise all your selections if you want to make any changes. Then click submit. You will be shown some rules and conditions. Then click submit again. You are all done!
MKF vs Other Players In The Space
What sets MKF apart is its play style. It's not a site where you sign up and start betting right off the bat. There is a reason that it is called daily fantasy sports you have to use your knowledge of the game. Not only that, but you also have to stay up-to-date with the ongoing tournament because the best team will not always perform the same in each tournament.
The playing style in MKF is also termed props betting, which is the short form of proposition betting. You make a prediction on specific propositions or scenarios of a game judging from your knowledge. MKF falls in the legal grey area, unlike many sports betting sites, due to the unique style of play.
This is why MKF is the only option for fantasy sports in states where betting is illegal. Their transparency and customer service sets them way ahead of many top players in this sector.
Who Can Legally Play MKF?
There are age restrictions to play in MKF as it involves the transaction of large volumes of money. You will have to be of legal age, 18 or 21, depending on which state you are in. Plus, you will have to be a legal resident of any of the following states:
Alabama
Alaska
Arkansas
California
Colorado
Connecticut
Washington DC
Florida
Georgia
Illinois
Kansas
Kentucky
Massachusetts
Maryland
Michigan
Minnesota
Mississippi
Nebraska
New Hampshire
New Jersey
New Mexico
New York
North Carolina
North Dakota
Oklahoma
Oregon
Rhode Island
South Carolina
South Dakota
Texas
Utah
Vermont
Virginia
West Virginia
Wisconsin
Wyoming
Monkey knife fights also allow participants from Canada except for Quebec.
Conclusion
Fantasy sports leagues are fun, exciting, and legal. It gives you the thrill of betting even if you reside in an area where betting is illegal.
Monkey knife fight has revolutionized the game by combining elements from props betting and fantasy sports. They are sure to transcend in the upcoming days and leave a footprint for the next ones in line.