When starting in the world of betting, fantasy sports, and the intricacies of online gambling, it can be challenging to know where to start. Many people have discovered one website, which has been around since 2009, is FanDuel, which can feel daunting if never seen before.
The FanDuel Daily Fantasy Sports service allows you to create your fantasy teams to score a point each week, allowing you to compete with friends or strangers for a grand prize. You must register through the website to actively participate in betting and fantasy sports.
You will need to be aware of the surrounding website and the service, with many people not constantly aware of the limitations. Understanding what is happening and how it will affect your overall experience is important.
Backed by Mark Cuban, Adam Schefter, Kevin Durant, Matthew Dellavedova, and more!
Use Paypal Or Any Popular Payments
$100 Money Back Guarantee (Terms & Conditions Apply)
24/7 Support
Use Promo Code 'DFF' For a Match Bonus Of Up To $100
Sportsbook, Casino & Racetrack All On One Platform
125% Sign-Up Bonus & 200% Crypto Bonus
Fast & Easy Deposits
24/7 Personalized Service 365 Days A Year
What Is FanDuel?
The website and service provided by the company are broken down into several components that need to be understood. The service provides both gambling and gaming services surrounding several different types of sports played across the United States.
Many people at first assume that you are limited to what is listed at the front of the website, not realizing that there are several options and ways to use FanDuel. Most users using the service will already know what they want to do and how much they would like to spend.
Fantasy Sports
The most widely available service that can be accessed on FanDuel is the fantasy sports leagues played and created. Playable in 44 states, the system consists of free and paid leagues where you draft a fantasy team to head-to-head with others.
This is often the service copied by other services in the world and allows friends, offices, teams, or just strangers to compete against each other. While most of the service is free, several leagues are paid that awards monetary prizes.
Sportsbook
Sportsbook is the sports betting service that FanDuel offers, allowing you and others to bet on the outcome of several different games. Not nearly as widely available as the fantasy sports league, its limitations can also be that it cannot be played only online.
Usually, this is why you will find physical retail locations for FanDuel across the United States, allowing people to bet on the sports that they love. You should know that many states in the US do not allow betting on any sport, no matter your age.
How To Do a Parlay on FanDuel Sportsbook
Where Is FanDuel Sportsbook Legal?
Horse Racing
A different aspect of FanDuel is that the horse racing aspect is loved by people who want more traditional ways of betting. Available in retail locations and on the FanDuel online systems, you can enjoy the world of betting on the outcome of horses, with races starting every five minutes.
Because horse racing is a much more traditional way of betting, it is not always as heavily regulated or wholly regulated illegal. You will have to familiarize yourself with the laws in your state to ensure that you are allowed to place bets or risk being heavily fined or arrested.
Top Rated Daily Fantasy App
Underdog Fantasy is our pick for users looking to try a new and exciting daily fantasy sports experience.
Backed by Mark Cuban, Adam Schefter, Kevin Durant, Matthew Dellavedova, and more!
Use Paypal Or Any Popular Payments
$100 Money Back Guarantee (Terms & Conditions Apply)
24/7 Support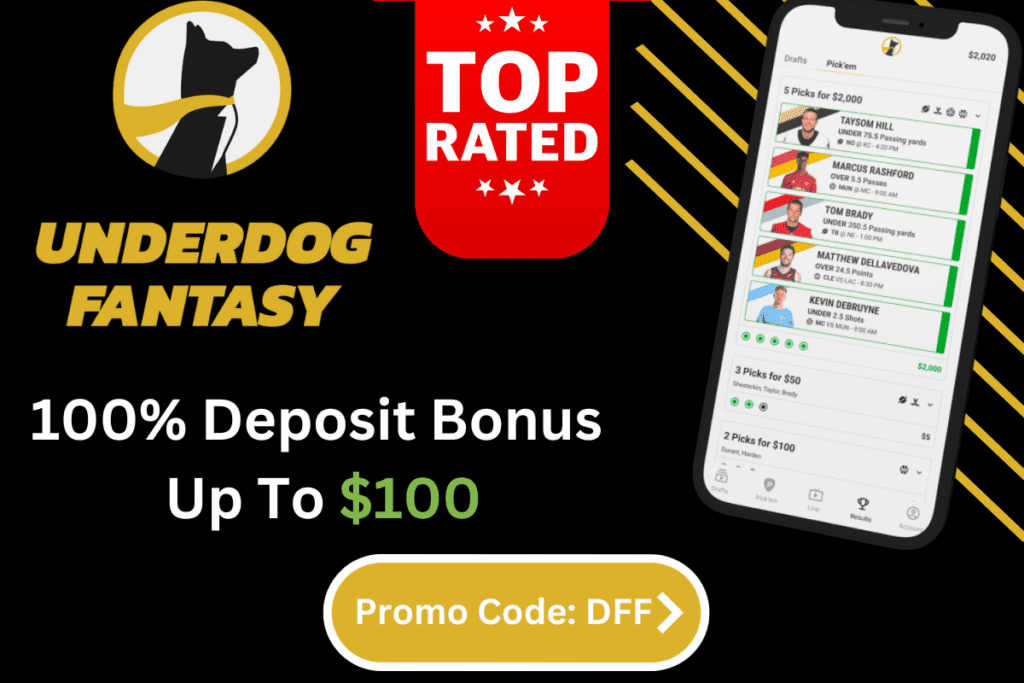 How Do You Play on FanDuel?
To play on FanDuel or play at one of their retail locations, you must, at the very least, be over the age of 18; in some states, this may be 21. Registering online and creating an account linked to your credit card will be needed to allow you to place bets and pay the fines required.
The registration process should only take a few minutes to have the correct numbers and documentation to use. Once you have an account, you will log in to the section you have registered on, create your fantasy team, or place your bets.
You must register for each of the three systems you can play on, as different laws and regulations apply to each. While having an account will make the process easier, you will still be required to register and provide documentation actively.
How Do You Cash Out On FanDuel?
What Are the Costs to Play or Enter?
There are free options to enter FanDuel Daily Fantasy Sports, with most early players playing fantasy games in the free section. However, there are also entirely pay-to-play systems requiring a registration fee and an additional amount you are betting.
This has caused many people to become confused as they are not aware that there are free aspects that they can play. If you want to gamble, you will naturally have to link a payment system, allowing you to place bets on the teams you think will win and the expected outcomes.
Many people still think that the service is only paid to play; however, this has never been true for the fantasy sports service provided by FanDuel. They allow you to comfortably play against or with a group of friends without paying to enjoy the service.
What Does Net Total Mean On FanDuel?
How To Become A FanDuel VIP (Step-By-Step)
Who Can Legally Play on FanDuel?
Depending on where you are in the world, you may or may not be allowed to play anything on the FanDuel website. Legal and regulatory things apply to how the website and FanDuel's services cannot allow anyone to join or create an account.
It may seem overly protective, but countries worldwide and every state in the US have different laws that apply to them. These heavily affect how the company operates and how you can interact with it while staying within the laws you must follow.
Outside The United States
Currently, you cannot join FanDuel's service because the company focuses almost exclusively on sports in the US. The prizes on offer are all subject to US laws, meaning you cannot even join in on the fantasy sports events.
Many people find FanDuel while searching for a way to join fantasy games in their own country, which confuses them. FanDuel is one of the most popular websites globally, which means that it usually shows up when doing an internet search for online sports gambling.
Inside The United States
If you are inside the US, there are very few places where you won't play on FanDuel; while you may not be able to do horse racing or sports betting, you can do fantasy sports. You will be allowed to create an account and play against others to win cash prizes.
This is part of why FanDuel has become so popular; since 2009, it has provided a central location for many people to play fantasy leagues against each other. It has become such a competitive environment that many people do nothing other than play fantasy sports games to win prizes.
How To Refer A Friend On FanDuel
What Are the Age Restrictions on Joining FanDuel Daily Fantasy Sports?
This may seem like one of the minor complicated questions surrounding how FanDuel works; instead, it is easily one of the most troublesome. Each state in which the company operates has several different gaming and gambling laws, which can be complicated.
We have seen several people assume that you must be around 18 years old to play on FanDuel; however, this is not true. You will have to learn when you can start playing all the company's games and how to enjoy your winnings legally.
However, it is only legal in 44 states across the US to play and enjoy the Daily Fantasy sports product that the company provides. It is important to remember this as you create your account; while it is allowed everywhere, you may be heavily fined if you cross state borders and partake in it.
How Can You Join FanDuel?
You can join in several ways in the fun of the FanDuel Daily Fantasy sports competitions. Each one needs to be understood as several caveats you must be aware of, especially when linking other accounts.
We always recommend that you completely understand FanDuel's systems, allowing you to enjoy them comfortably. We have seen several people make the mistake of just assuming they can join with their phone, only to be left in the dust as registration problems start.
The Website
We used this location and recommended creating your account, as the website has all the information you need. You can create a customer account or link other accounts easily without getting confused about what is being asked or required to register.
The FanDuel website gives all the legal requirements you need to know about joining it and why you should use it. It is an easy-to-use website and allows you to comfortably catch up to what is needed to create an account in your state, ideally.
Creating An Account
When creating an account for the Daily Fantasy Sports service, you can create a brand-new one by clicking the register button. There is no delay, and you can immediately start creating your account; the system will allow you to enjoy playing against others almost immediately.
There will be a few requirements that you need to update once you start joining paid-for tournaments and tourneys. These will be your credit card details, age, and even your home address to allow the company to ensure you are legally allowed to play.
Retail Locations
It may surprise you, but you can join Daily Fantasy Sports by visiting the retail locations of FanDuel in several states. Under some laws, the prize money and the competitive nature of Fantasy Sports can be considered gambling, as it is not a game of skill but luck.
The retail locations allow you to comfortably and easily enjoy Daily Fantasy Sports without stress about its legality. Further, if you are not entirely internet savvy, you may ask for some help so that you can quickly learn how to enjoy Daily Fantasy Sports.
Facebook Login
This is how many people may do it, as they can create an account within seconds by linking their Facebook accounts. Further, it will mean that they don't have to remember their passwords, as it will simply connect with Facebook each time, which allows you to sign in anywhere comfortably.
However, it should be noted that when logging in through this manner, you will be given Facebook the option to gather information from you. Further, if your Facebook account is hacked, people can access your FanDuel account, access your credit card, and more.
This Is How Does FanDuel Makes Money
Keep Learning
Learn more about FanDuel by reading the articles below.
How To Delete a FanDuel Account
Can You Have 2 FanDuel Accounts?
7 Common Reasons For FanDuel Account Suspension
What Do Voided Bets Mean On FanDuel?
Why Is FanDuel So Hard To Win At? 4 Common Reasons
Does FanDuel Pay Real Money? Learn Here!
The FanDuel Fantasy Sports service is one of the largest and best ways to enjoy playing and partaking in fantasy sports on the internet. It should be noted that it is limited to the country, and you will have to pay to enjoy the more expensive prize pools in popular sports.
Many people have joined to start losing their money as their lives get too busy to properly create their fantasy teams each week.