If you are a sports fan, chances are you are also into DFS. Daily fantasy sports are a fun competition where there are both elements of sports and betting. And FanDuel is one of the most popular sites for that. You can earn money as well. But have you ever wondered how FanDuel makes money?
Well, this article will be all about their business model and more.
FanDuel has quite a different way of earning money. One of its biggest revenue channels includes playing fees, bet charges, advertising, and brand deals. Also, when a player bets against the house, FanDuel also makes money from that.
As with many things, that is not the complete story. I'll go over more details, such as the site's revenue and how the site earns money. If you are interested in things like that, you will love this one. So, let's get started.
Backed by Mark Cuban, Adam Schefter, Kevin Durant, Matthew Dellavedova, and more!
Use Paypal Or Any Popular Payments
$100 Money Back Guarantee (Terms & Conditions Apply)
24/7 Support
Use Promo Code 'DFF' For a Match Bonus Of Up To $100
Sportsbook, Casino & Racetrack All On One Platform
125% Sign-Up Bonus & 200% Crypto Bonus
Fast & Easy Deposits
24/7 Personalized Service 365 Days A Year
How Does FanDuel Make Money?
Let's get right into it then. How does the site make money? I want to make one thing crystal clear. FanDuel is, first and foremost, a business. So, you can bet all your winnings that they have a pretty well-thought-out revenue model.
It is no surprise
that the site is doing pretty well financially. This is good news for you as well. If FanDuel is making money, that means they can keep offering you the entertainment and DFS thrills you love.
The site was repurchased by Flutter Entertainment in 2018 and went through a series of investment rounds. They raised $11 million in Series C funding and a whopping $275 million in Series E funding.
That means the investors need the site to make money if they want their investment to be worth it. Thankfully, the site does.
How do they earn money then? The short answer to this question is there are a lot of different ways. The site makes money through playing fees, sports betting, gambling, and also competitions.
As with all large sites, revenue is never from a single source. Frankly, that would have been a terrible business practice. Let's break down how the site does it in each type of betting.
Online Casino
Since FanDuel is a betting site, the probability of winning is significantly high and not to mention skewed. Users can play different games like blackjack and slots and also sports betting. When a player (gambler) bets against the house, if he loses, the earnings will go to FanDuel.
And as I mentioned, the chances of you losing are high since the odds are skewed. I am sure you have heard the phrase, the house always wins.
However, it is not illegal. Regulators often screen and scrutinize these odds to make sure they are legal.
Fantasy Sports Fee
This is one of the more consistent streams of revenue for the site. FanDuel will charge a 10% fee for every dollar you spend on competitions. That means if the players spend $100,000, the site gets to keep 10% of that.
Then some contents may require a charge to enter. Some are free, though. FanDuel also uses these funds to give you a better experience by enriching the site and giving you more features.
Sportsbook
Since online sports betting is not legal, this might not apply to all users. So, FanDuel cannot make money from players that live in states where sports betting is illegal.
But in states where it is legal. FanDuel makes money when a player loses a bet. They also charge a fee for placing a bet in the first place. That is another source of revenue for them.
Inactivity Fee
Lastly, there is the inactivity fee. This is one of the newer additions. It was implemented in 2019. The inactivity fee is exactly what it sounds like. If any account is inactive, the site will charge a $3.50 monthly fee.
If you think about it, this makes sense for the site. When an account is inactive, they can not make any money from that user because they are not even playing or using the site.
The money is withdrawn from the user's FanDuel accounts, though. Not their bank accounts. And if the account runs dry, the charges will cease.
Advertisements
Most sites on the internet also make money by selling ads. And FanDuel is not different. They also run ads on their sites, which gives them another stream of revenue. The site strategically partners with big names like Sports Illustrated, NBC, Comcast, and more.
This partnership could lead them to acquire new customers, which would create higher-earning potential for the site. As you can see, the site's business model is pretty solid.
See The Complete DraftKings 2021 Review & Guide Here
FanDuel Advertising Spending and Revenue
FanDuel, like any other business, spends money on marketing and advertising. Quite a lot. The site spent around $20 million on TV advertising. While they got the customers, the rate of acquisition was steep.
On average, the rate is $68 per client/customer. That is high. But here is the thing: FanDuel makes up for that in some clever ways. Per season, the site will profit by $100 per customer. This holds even with the high acquisition costs.
The site's revenues are also healthy. In 2020, the site grossed about $896 million in revenue. And it was an 81% year-over-year increase. Remember the investment rounds I mentioned earlier? I am sure all the investors are pretty happy with that performance.
It seems like FanDuel does have its business side all figured out. As a player, you can join the site and play a lot of different games and slots. DFS, sportsbooks, and an online casino are all available.
As you grow with the site and get more skilled, your odds of winning will also increase. And FanDuel gives its users a chance to succeed as well. You do need to invest some time, energy, and not to mention money, though.
Top Rated Daily Fantasy App
Underdog Fantasy is our pick for users looking to try a new and exciting daily fantasy sports experience.
Backed by Mark Cuban, Adam Schefter, Kevin Durant, Matthew Dellavedova, and more!
Use Paypal Or Any Popular Payments
$100 Money Back Guarantee (Terms & Conditions Apply)
24/7 Support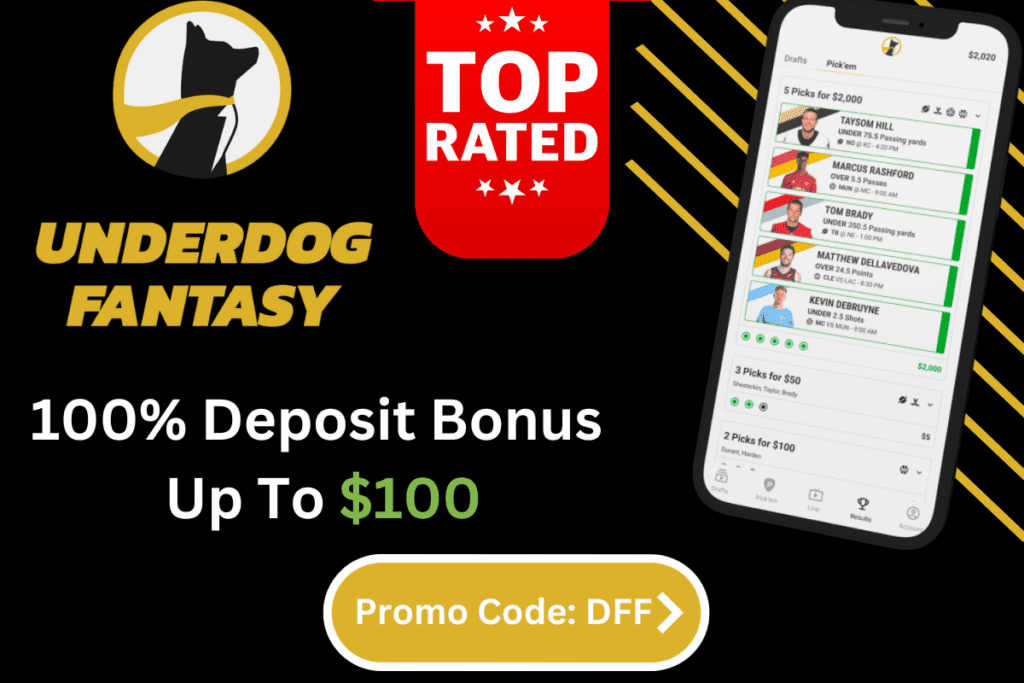 Do You Need To Pay To Play?
Not really. The games on FanDuel are free, and you do not need to pay. However, there is an option to purchase them if you would like to do so. The good thing is that the site offers different sorts of contests.
These contests have varying prize pools, which can be a great way to earn money. But also need to keep in mind that it is a business, and the odds are skewed. So, it would be best if you also gamble responsibly.
Final Words
There you have it. Now you know all there is to know about how FanDuel makes money. They have a lot of revenue sources. All in all, their business models are working pretty well for them so far. Let's see what the future holds for one of the most popular DFS sites. Thanks for stopping by, and good luck on winning big on FanDuel.