DFS betting can be entertaining. Do you know what is even more fun – winning and putting that money into your bank account. DraftKings has a lot of withdrawal options. So, here is all about how to set up a bank account on DraftKings.
Setting up a bank account on DraftKings is very intuitive and easy for the most part. You can do it from the Payment screen, or you're My Account section. Fill in all your banking details correctly and choose what method you want to use.
That is not all, though. It would be best if you were careful to give the correct banking details. Otherwise, you might face some unnecessary hassles – hassles that could have been appropriately avoided. So, here is what you need to know.
Backed by Mark Cuban, Adam Schefter, Kevin Durant, Matthew Dellavedova, and more!
Use Paypal Or Any Popular Payments
$100 Money Back Guarantee (Terms & Conditions Apply)
24/7 Support
Use Promo Code 'DFF' For a Match Bonus Of Up To $100
Sportsbook, Casino & Racetrack All On One Platform
125% Sign-Up Bonus & 200% Crypto Bonus
Fast & Easy Deposits
24/7 Personalized Service 365 Days A Year
How To Set Up Bank Account On DraftKings
Let's get on with the most crucial part of this guide. Then how do you set up a bank account on DK then? The process is simple. It is pretty simple. DraftKings' site is very intuitive. And you will have all the necessary information and fields right in front of you when you log in.
Before you connect or set up a bank account, you need to keep one thing in mind. You should always connect the same bank account you used to make the first initial deposit.
You will need to deposit money into the said bank account before you can start withdrawing it.
And the rest of the process is pretty simple. Let me explain them in an easy-to-follow, step-by-step guide.
Step 1 – Log In
This one is a no-brainer. You will need to log in first to make any withdrawals/deposits or connect your bank account. Put in your DK account information to log in.
I want to clarify one thing here; the log information you will need to put here is your actual DraftKings credentials. Not your bank.
Step 2 – Navigate To My Account
Now, navigate to my account screen. You will see your profile picture in the upper-right corner of your screen. Click that, and a drop-down menu will show up. From there, click on My Account.
Step 3 – Go To Online Banking Screen
Then go to the online banking screen. From there, you will be shown fields to put your banking information. Fill that up with the correct information. This part is essential. If you do not use accurate information for your bank account, your withdrawals and deposits will not be processed.
Step 4 – Add Debit/Credit Card
DK supports both debit and credit cards. From the same screen, now you will need to put in your card information. However, not all cards are DraftKings compatible. American Express cards, for example, cannot be used to fund your DK casino or sportsbook account.
Step 5 – Deposit or Withdraw as Required
Once everything is all set up, now you can withdraw or deposit the amount you like. Choose the method you want to use and enter the amount. It will take a few days to process. Usually, it is between 3 to 5 days.
Pro Tip: If you make a mistake, you can cancel the transaction and start over.
See The Complete DraftKings 2021 Review & Guide Here
Important DraftKings Policies
Since money is involved here, there is the risk of security. So, DraftKings has strict policies you need to follow. All these policies are to protect you and keep you safe from harm and malicious users/hackers.
Before I go into the policy, let me briefly mention some best practices.
You should never share your banking details with anyone.
Always keep a tab on your account balance and withdrawals/deposits.
If anything goes wrong, quickly contact customer support.
With those cleared up, let's jump into the critical policies.
Pending Bonuses Are Not Eligible for Withdrawal
You can only withdraw earnings and winnings. Any pending bonus you might have cannot be revoked.
This is to ensure that what you withdraw is the amount you have won. You will need to wait for pending winnings until they are in your account.
Identity Verification Is Required
You will need to verify your identity when making a withdrawal and deposits. This is to ensure that you are the person who is withdrawing from your account.
It ties in with my advice of not sharing your banking details with others. You really should not share your details with others.
Withdrawal Maybe Cancelled
If you have limited gameplay time, DraftKings can cancel your withdrawal request. This is very rare. To know further, you can get in touch with DK's customer support.
You can click the link above or navigate to it from the DK site. Withdrawal cancellations are not that common. So you should not have any problems.
Fraudulent Behavior Is Reviewed Before Processing
DraftKings will review your history with them. In other words, they will examine any fraudulent or unpermitted behavior. Why do you ask? To make sure your account is being used for its intended purpose.
DraftKings also reserves the right to cancel your withdrawal request if any fraudulent activities are found. They can close the account as well if the offense is severe.
Email Confirmation
You will get an email saying that your request was processed successfully. This is to notify you that the site has received your request and is working on it.
That is why it is essential to provide an email address to which you have access constantly. Otherwise, you may miss important emails and notifications from the site.
Minimum $20 Withdrawals
Withdrawals have a minimum threshold of $20. You can not withdraw anything lower than this. So, whenever you make a withdrawal, it needs to be at least $20 or above.
Keep in mind that the first part of your withdrawal is paid to your original funding source. The next part will go to the option you chose.
Knowing all the policies and terms and conditions is essential. That way, you will not be surprised if something does not go as expected.
Top Rated Daily Fantasy App
Underdog Fantasy is our pick for users looking to try a new and exciting daily fantasy sports experience.
Backed by Mark Cuban, Adam Schefter, Kevin Durant, Matthew Dellavedova, and more!
Use Paypal Or Any Popular Payments
$100 Money Back Guarantee (Terms & Conditions Apply)
24/7 Support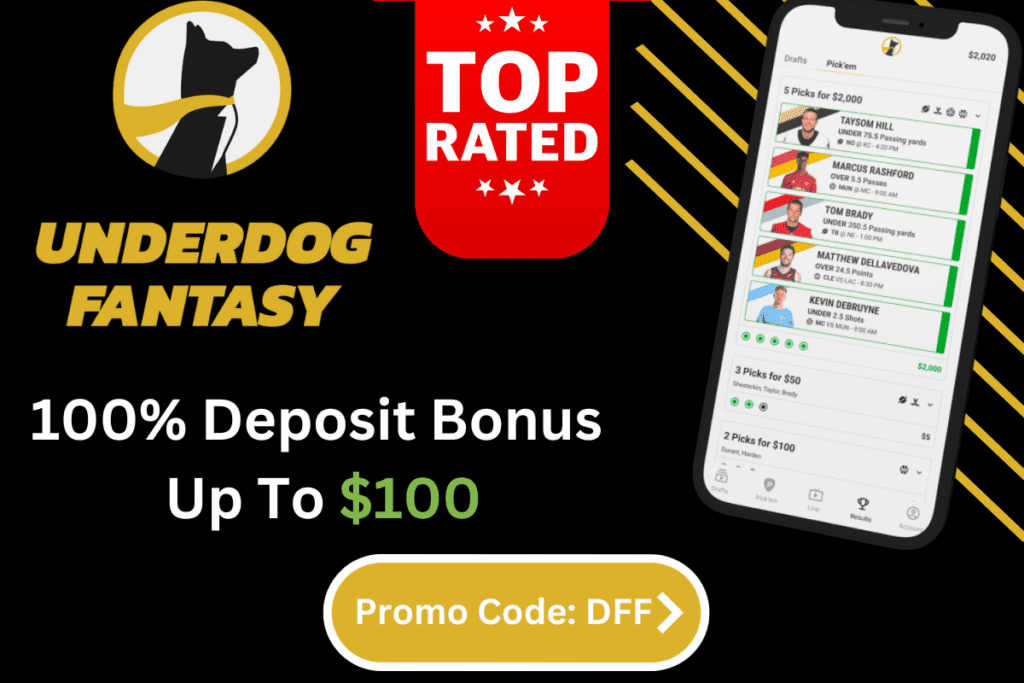 What Other Options Are Available At DraftKings?
Being one of the most popular DFS and sports betting sites, you can bet that there are more options than debit/credit cards for making deposits and withdrawals. If you want more options than just setting up a bank account with them, here are all the alternatives:
PayPal
PayPal is one of the most convenient and best options. It is also very fast. The processing time is relatively slow. You can deposit and withdraw using PayPal.
Wire Transfer
Wire transfer is also pretty convenient for the most part. But it is not available for everything on DraftKings. You will need to check whether it is supported.
The time taken can be between 24 to 48 hours. So, not that bad at all. The shorter processing time for wire transfers should be convenient for everyone.
Wrapping Up
There you have it. By now, you should have a pretty solid idea about how to set up a bank account on DraftKings. The process is pretty simple. The site makes it pretty obvious and intuitive.
All the options are laid out nicely, and you can choose which one you want to use.
The thing to remember, though, is to provide the correct information. Otherwise, you will need to face extra hassles. And no one has time to deal with those unnecessary headaches.
Double-check to ensure your banking details are correct. And lastly, I cannot stress this enough, do not share it with anyone.