However, some people find it challenging to make money on DFS platforms like DraftKings. You could feel as if you're never going to win. It requires talent and technique, as well as competition.
There are a lot of reasons why someone may not win on DraftKings. Some common mistakes people make can be easily avoided. Things like building a roster too early or just following the crowd are some of them. Another big reason is not holding on to your bankroll.
These are only an overview of some of the reasons. I will go into much more detail about it all. Let's talk about all the reasons you might not be winning. This article on why you never win on DraftKings will be a one-stop-shop for all your DFS needs.
Backed by Mark Cuban, Adam Schefter, Kevin Durant, Matthew Dellavedova, and more!
Use Paypal Or Any Popular Payments
$100 Money Back Guarantee (Terms & Conditions Apply)
24/7 Support
Use Promo Code 'DFF' For a Match Bonus Of Up To $100
Sportsbook, Casino & Racetrack All On One Platform
125% Sign-Up Bonus & 200% Crypto Bonus
Fast & Easy Deposits
24/7 Personalized Service 365 Days A Year
Top Rated Daily Fantasy App
Underdog Fantasy is our pick for users looking to try a new and exciting daily fantasy sports experience.
Backed by Mark Cuban, Adam Schefter, Kevin Durant, Matthew Dellavedova, and more!
Use Paypal Or Any Popular Payments
$100 Money Back Guarantee (Terms & Conditions Apply)
24/7 Support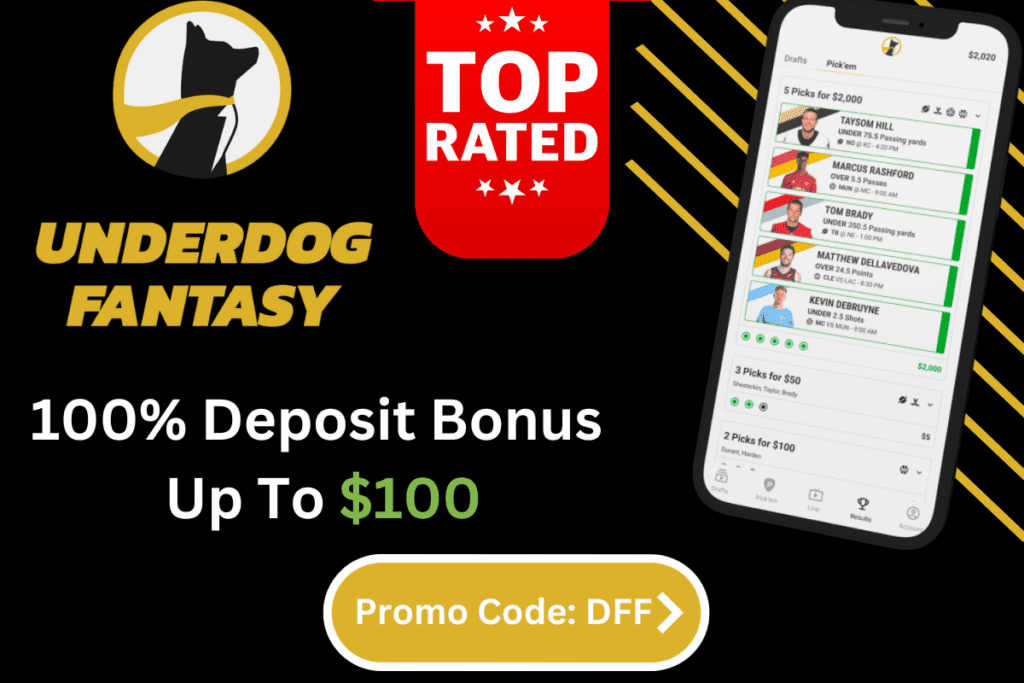 Common Mistakes People Make On DraftKings
DraftKings is one of the newest DFS sites on the block. And they also happen to be one of the most popular as well. There are countless news and articles about a random person winning hundreds and thousands of dollars.
Chances are, this is not just any random person. But instead, someone who has the experience and is not making the mistakes others are.
So, why does it seem like you cannot just hit the jackpot? Well, there might be just some specific things you are doing. These mistakes are what are costing you the money. As I said, DFS takes skill and an analytical mind.
You cannot ignore the news and data at all. And this is one of the significant mistakes players are making on DraftKings. Here are all the common mistakes people make on DFS. Avoid these at all costs.
Picking Random Players
Picking random players is a big reason why players lose. And it can be an easy trap to fall into if you are a beginner. Doing what everyone else is doing seems easy. You might think that just because everyone else is creating a specific roster, that might be the golden ticket.
Quite the contrary. Following the crowd will only land you in the middle and nothing more. Your chances of hitting it big become slim. Just because someone else has a prominent player at running back does not mean you have to do the same.
If you are playing in double up or large 50/50, it might work. But not in most cases. So, going for unique lineups can be the right thing to do here.
Keep in mind, though, that you do not just make a unique roster for the sake of it. Then you are just making the same mistake all over again.
Ignoring Outside Data
This one is related to the previous point. If you want to create a lineup that is unique and effective, then you need data. You must be thoroughly knowledgeable about the subject. That is why you cannot afford to ignore data.
You can do your diligent research on the odds. Professional oddsmakers can make quite a lot of money. So, you need to dwell on the data and the stats to get a good grasp of the field.
Reading DFS analysts daily is also a perfect way to be updated and in the know. It will surely give you an edge over someone who is not taking in more data.
See a Complete Overview Of DraftKings Here
Making Very Early Rosters
I need to explain this a bit more. Pay attention. Making rosters and lineups early is OK only if you are entirely sure you will come and check up on it. A lot of things can happen down the line.
The players you chose for your rosters may have been injured in the real world and whatnot. So, you always need to come and check up on the roster to make sure your roster does not require any changes.
Obsessing Over One Specific Player
When making your rosters, you need to think critically and not with just your heart. You may have a player you like. But their performance and consistency matter. You cannot afford to get enamored with a specific player.
Consistent players are what you need to target. Since you will be playing daily or weekly, you need players that will perform throughout the season. And celebrity players can be expensive as well. This may leave you with fewer options for other players.
Blindly Following Analysts And 'Gurus'
If you have been paying attention till now, you may remember I told you to read up on analysts and what they say. That is still true, and it will give you a wealth of helpful information. But do not just blindly follow them.
They can and do get things wrong—a lot of the time. Do not listen to those who have not invested in the game themselves. If they do not have any skin in the game, they are just observing.
Check out those who have solid experience in Daily Fantasy Sports betting. And your research is always essential. Remember that.
Not Managing Your Bankroll
Ups and downs are a very normal thing in DFS like DraftKings. Where many players falter is they fail to manage their bankroll adequately. Experienced players and bettors know just how important it is.
If something unexpected happens, having a tight grip on your bankroll will help you pull you through. You will be able to pass the storm without much trouble. Winning and losing is part of the game. You need to make sure that you hold on to the money till you start to win more.
Same Strategy For Different Sports
We are sure you do not need us to explain why this is a bad idea and a mistake. One strategy that might work in a specific fantasy sport might work well in others. That is something you need to learn right away.
Every sport will have different approaches that will maximize the chances of your success. For example, do not use the draft strategy in 50/50 for large-field tournaments. You get the idea.
Putting All Your Eggs In One Basket
What I mean by this is betting everyone on a single roster. That is a complete no-go. With a single lineup, you will not be able to diversify. This will reduce your chances of winning, which is the main goal here.
The rosters can be unique. But the core players can be rotated onto other slots as well. Besides, playing DFS with multiple lineups is much more fun, too! So, this mistake is not only a strategic one but also deprives you of some of the excitement.
Going After The Pros
I by no means want to discourage you. But if you are new, do not go against the DFS pros. It is not worth it. Squaring against them can lead you to zero bankrolls! These pros play in many contests all day. 
And they also have tools that can crunch data! It is not worth going against them. It is easy to fall into the overconfidence trap when you have won once or twice. You may start to get a little bit cocky. But save your bankroll.
The good thing is there are ways to tell how experienced someone is. It can be an experience badge or something similar. So, you can be sure when you are competing out of your league. Well, out of your company for the time being, at least.
Final Words
So, if you have been wondering why you never win on DraftKings, you should be able to see that some mistakes are prevalent and evident after reading through this article.
Maybe you unknowingly made some of them yourself. Do not worry. If you avoid these mistakes and play your cards right, your chances of winning will be higher.