All betting platforms like DraftKings can be highly addicting, and without proper management, it could spiral you out of control mentally, physically, and financially. If you feel like you're sick of the platform or really need to remove it from your life because of the above reasons, it's pretty simple. Here's how to delete a DraftKings account:
DraftKings doesn't allow its users to delete their own accounts. Instead, you'll have to email their support team at [email protected]. Why they operate this isn't answerable, but I can imagine they want to prolong the time someone has to decide whether or not they should deactivate their account.
As you can see, deleting your DraftKings account is relatively easy. All it requires is a simple email to their support team. People are unsure why they operate this way, but it certainly works, and it's straightforward for anyone to implement.
Backed by Mark Cuban, Adam Schefter, Kevin Durant, Matthew Dellavedova, and more!
Use Paypal Or Any Popular Payments
$100 Money Back Guarantee (Terms & Conditions Apply)
24/7 Support
Use Promo Code 'DFF' For a Match Bonus Of Up To $100
Sportsbook, Casino & Racetrack All On One Platform
125% Sign-Up Bonus & 200% Crypto Bonus
Fast & Easy Deposits
24/7 Personalized Service 365 Days A Year
Can You Delete a Bet On DraftKings?
Deleting your account is easy enough, but what about actual bets? There's nothing worse than making a bet in a rush and realizing it isn't something you wanted to bet on.
If you're wondering whether you can delete a bet on DraftKings and get your stake back, the answer is no. Once the bet has been placed, and their acceptance has been confirmed, the bet cannot be canceled. So, prevent any need to cancel bets as much as possible; always make sure your bet is correct before submitting it.
You may have the option to cash out your bet before the market goes live, but this isn't the same as canceling or deleting it. This means you've effectively won the bet anyway.
So, no, you can't delete a bet on DraftKings. But you can manage your reactions when betting on sports and deal with losses. Let's look at a few ways to do that.
See The Complete DraftKings 2021 Review & Guide Here
Top Rated Daily Fantasy App
Underdog Fantasy is our pick for users looking to try a new and exciting daily fantasy sports experience.
Backed by Mark Cuban, Adam Schefter, Kevin Durant, Matthew Dellavedova, and more!
Use Paypal Or Any Popular Payments
$100 Money Back Guarantee (Terms & Conditions Apply)
24/7 Support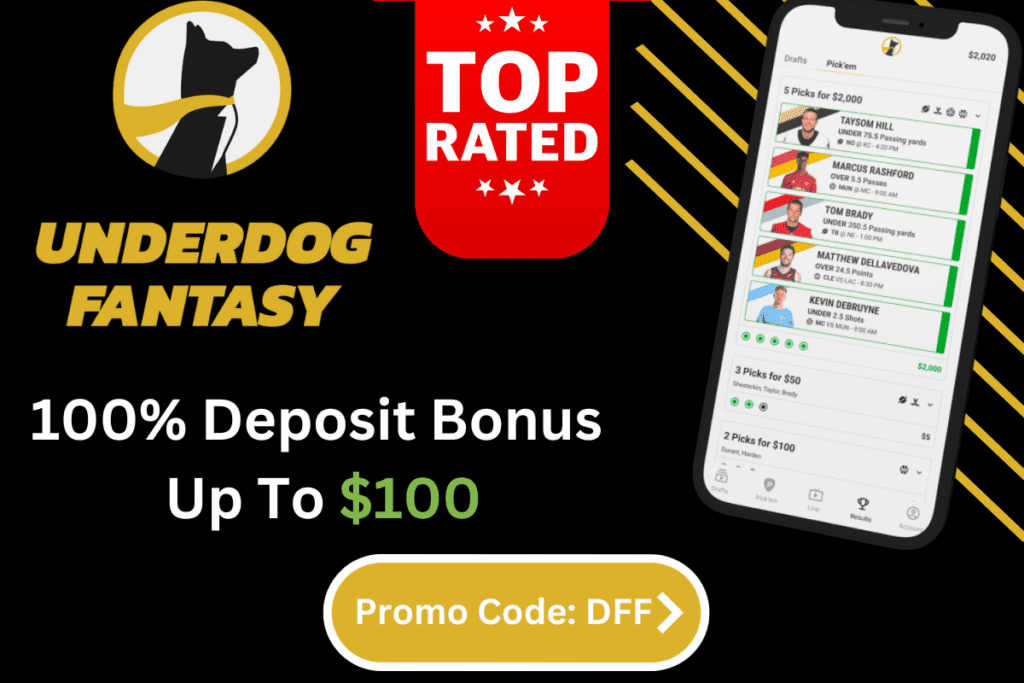 How To Deal With Losing DraftKings Bets
Even if you aren't betting, those who are genuinely invested in our sports can be frustrated when your team loses. Losing a bet will only add to the frustration and disappointment. Gambling is just that; gambling. There's always uncertainty involved, and you always stand a chance of losing. This anger and disappointment can spiral into other mistakes as you try to make up for the lost money, so let's look at how to manage your relationship with betting.
1. Budgeting Is Vital
Before you even start betting, you need to know how much you can afford to lose. Thinking of it this way may sound cynical, but wagering money you can't afford to lose can put you in a terrible situation very quickly.
Know exactly how much money you can comfortably spend on betting for the week or the month, and stick to it. Using a bet calculator can also help you know exactly what you stand to win or lose from individual bets. Budgeting is the first step in preventing severe financial troubles associated with betting.
2. Accept Your Losses
Losing a bet can make you question all your decisions to decide that was the right bet. You might regret that you didn't listen to someone else or bet a different way. This way of thinking is not helpful. The fact is, you win some, you lose some; no one can win every time. Don't dwell on what would have happened if you'd bet differently.
3. Understanding The Platform
Different platforms will offer other odds and rewards. It would help if you spent a lot of time choosing the right platform and ensuring you're getting the best deal. If you sign up and start betting in one place, then find better odds elsewhere, this can be frustrating.
4. Experts' Advice
You need to be able to listen to your own judgment on betting. Some people certainly are very knowledgeable and will have great advice for you, but you can't rely on listening to everything they say whenever you want to make a bet. It can lead to even more profound frustration with a loss because they were supposed to be the 'experts.'
Learn to trust your own judgment, and this will help you deal with the losses; you may have lost, but at least it was your loss, and no one else leads you to it.
5. Don't Chase Your Losses
The most important piece of advice you can take on board when it comes to betting on sites like DraftKings is to never, ever chase your losses.
When you lose a bet, it's understandable to be frustrated and immediately start thinking about how to make up the money you lost. This can lead to spiraling losses, anger, and frustration, and you should never do this. If you have a loss, accept it and move on.
6. Don't Bet On Chain Wins
Chain wins can seem tempting, given the enormous payouts they sometimes offer. And, yes, maybe you've been watching a football team that hasn't lost a game in ten games, but they're never a sure thing and won't pay off regularly. If you bet on-chain wins too often, you'll more than likely make a loss.
7. Don't Change Your Strategy
All in all, then, the point is that you should stick to your strategy. Find a strategy that works as often as possible and stick to it. Looking at the data, stats, and news, whatever your strategy is, stick to it and don't change it.
Changing it because of one loss can lead to confusion and uncertainty and lead to more losses. Again, even though you have a strategy, you still need to accept that it won't win it for you every time. The best strategies incorporate loss. You can, of course, make adjustments according to what you observe, but ultimately you should stick to your plan as much as you can.
Ultimately, then, gambling and betting can be a somewhat volatile and tricky subject. Accept that you won't win every time, and make allowances for that in your budget. Don't chase losses, and don't beat yourself up over those losses; this is how gambling works!
Take the time to learn the game and learn the strategy, and you won't get so frustrated over losses. Betting is about following a careful, methodical strategy, watching it succeed, and accepting when it doesn't work out too. Keep all this advice in mind, and you'll have a lot of fun betting on DraftKings.