What happens when there's a push on PrizePicks? If you haven't heard about PrizePicks yet, you've been living in a dark cave or are just not a sports fan.
It's a Daily Fantasy Sports platform that is set up, so you compete directly against the numbers instead of against other individuals. Since it's one of the simplest possible models you can have, it has soared into popularity in the sports betting community, and that will likely remain true for quite some time.
So, what about when a push occurs? A push happens when neither the bettor nor the house has a clear winning result when the final score has been posted. In other words, a tie.
For example, if you're betting that the Green Bay Packers will cover a -3 spread against the Chicago Bears, and the final score is Green Bay 27, Chicago 24, neither the house nor the bettor wins the bet. In that case, the amount of your bet simply returns to your available kitty for making future bets.
However, there are many more really exciting possible outcomes from your PrizePicks betting scenarios, so keep reading to learn about some of them.
Backed by Mark Cuban, Adam Schefter, Kevin Durant, Matthew Dellavedova, and more!
Use Paypal Or Any Popular Payments
$100 Money Back Guarantee (Terms & Conditions Apply)
24/7 Support
Use Promo Code 'DFF' For a Match Bonus Of Up To $100
Sportsbook, Casino & Racetrack All On One Platform
125% Sign-Up Bonus & 200% Crypto Bonus
Fast & Easy Deposits
24/7 Personalized Service 365 Days A Year
Pushes And Other Outcomes
You can arrive at a push on several different forms of betting besides a push on one specific game outcome.
For instance, you could have made a bet on the over/under at 64 points. In that case, if the final score were to be 43-21, the bet would result in a tie or push, and neither the bettor nor the house would win.
The same is true for any kind of bet you make – if the outcome results in a tie between you and the house, neither side wins, and your money goes back into your kitty pool.
Here is a typical scenario on a PrizePicks bet, and the procedure is simple enough that even people with no prior gambling experience can easily understand it and do it correctly the first time:
From the menu at the top, pick a sports team that you want to bet on
Once you've chosen your team, several athletes will pop up on your screen – you'll need to choose either 2, 3, 4, or 5 of these.
Then you have to choose whether these chosen athletes will score over or under the specified fantasy sports line numbers.
Now that you've selected your over/under, you'll have to decide whether to play Flex Play or Power Play. With Flex Play, you can get one of your picks wrong, whereas Power Play requires that all your picks be correct. The advantage of playing Power Play is getting more points when you win.
Who's Eligible To Play On PrizePicks?
Anyone who is at least 18 years of age or older, and lives in one of the 29 states where PrizePicks is considered legal, are eligible to use the betting platform. All of Canada also allows PrizePicks play, so if you're a Canadian resident, you are automatically eligible if you're at least 18 years old.
Given the platform's tremendous popularity, it's likely that the list of 29 states will soon be expanded to include more.
Top Rated Daily Fantasy App
Underdog Fantasy is our pick for users looking to try a new and exciting daily fantasy sports experience.
Backed by Mark Cuban, Adam Schefter, Kevin Durant, Matthew Dellavedova, and more!
Use Paypal Or Any Popular Payments
$100 Money Back Guarantee (Terms & Conditions Apply)
24/7 Support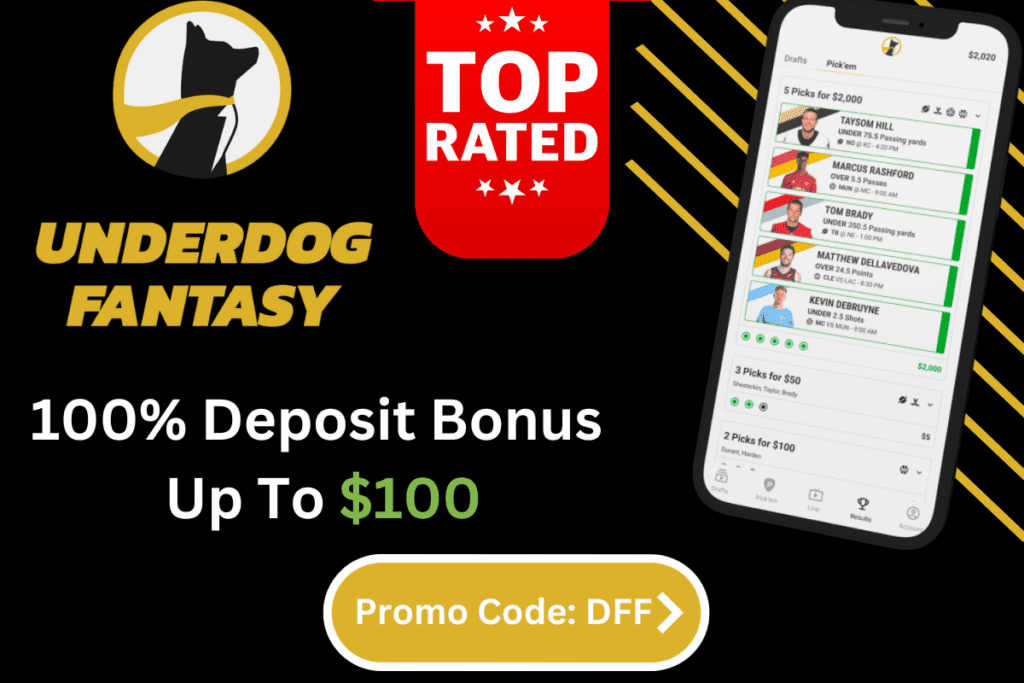 What About Mobile Users?
For all those users who do everything via their cellphones, PrizePicks has made it easy for you. Just download their app, and you'll be able to do everything you could have if you had used the online website for PrizePicks.
There are probably more mobile users now than people who log on to the website on desktop computers.
Either way, if you access the site, you'll have the same excellent experience, and you can count on a very easy and hassle-free sports betting experience.
Bonuses And Promotions
New players are treated to a 'welcome bonus' right off the bat, which can set the tone for their positive experience on the site. After the welcome bonus, there are many other promotions you can take advantage of. Some of these give back to current players to retain their loyalty and keep them coming back.
When a new user signs up with PrizePicks and enters the desired promotion code, that person can receive a $100 deposit in their kitty pool to start them off on the right foot.
Remember that any promotions the site offers are not meant to be withdrawn for cash value but must be used for placing bets on events. PrizePicks also offers $25 for every friend you refer to the site, provided that a friend signs up and registers as a member.
What's Behind The Popularity Of PizePicks?
It's no secret that PrizePicks has gone out of its way to keep things as simple as possible for bettors, and that's a big reason the platform has become the favorite of so many. The only possible bets you can make are over/under bets, and you only have two options for making these kinds of bets: using either Flex Play or Power Play.
Still, there is considerable flexibility in the sports you choose, although the most popular sports on the platform are Jai Alai, CS: GO, Truck Racing, and League of Legends. Another popular feature of the platform is its ease of withdrawal for money in your account.
You can either choose PayPal and have your winnings sent directly into your PayPal account, or you can choose e-check, although this option could take as long as a week to complete.
Another thing bettors love about this site is that you don't have to be a blood-and-guts researcher on sports and athletes to enjoy using the site. It's intended more for the casual bettor, who doesn't want to invest much time in researching statistics and relative player strengths. PrizePicks just want you to enjoy the experience and come back for more of them.