If you are a sports fan and have watched them on your TV, then you have probably seen a few fantasy sports commercials.
However, if you are someone who would like to join in on the fun of betting on fantasy sports alongside another 57 million US citizens, then you are probably asking how this type of gameplay is still legal when most states ban sports betting. 
Backed by Mark Cuban, Adam Schefter, Kevin Durant, Matthew Dellavedova, and more!
Use Paypal Or Any Popular Payments
$100 Money Back Guarantee (Terms & Conditions Apply)
24/7 Support
Use Promo Code 'DFF' For a Match Bonus Of Up To $100
Sportsbook, Casino & Racetrack All On One Platform
125% Sign-Up Bonus & 200% Crypto Bonus
Fast & Easy Deposits
24/7 Personalized Service 365 Days A Year
Is Prizepicks Daily Fantasy Sports Legal or Illegal?
So the big question is this; are Prizepicks fantasy games legal? Well, the answer to this is actually yes and no. And this is because in most states, betting real money on fantasy sports is completely legal currently.
However, that's not the case in some states, such as Washington or New York.
So, while Prizepicks is legal in most states in the US, there are still a lot of misconceptions about why and how fantasy games are legal, so let's understand why this is and find out in which states fantasy sports games are still not legal just yet.
Is PrizePicks Daily Fantasy Sports Considered Gambling?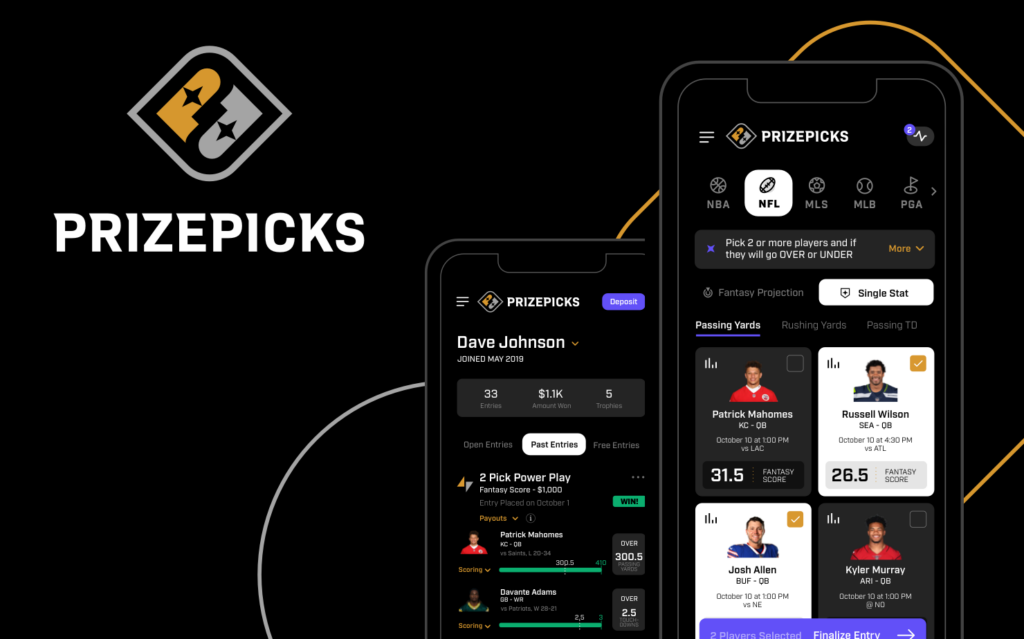 Wondering if fantasy sports are considered gambling is perhaps one of the most common questions when it comes to this industry. And the straight answer to this is no; fantasy games don't exactly work like real sports games.
But aren't daily sports gambling? Well, here is where things can get a little tricky to explain. While, of course, daily fantasy sports have the same elements as traditional betting (putting down money for a possible outcome in the hope of winning a generous sum of money back), your odds of winning money in fantasy sports are not entirely based on luck but also your mastery of the daily fantasy game.
And that's because, unlike slot machines, for example, daily fantasy demands an understanding of a distinct sport. Likewise, being substantially fluent at analyzing how two teams will perform when against each other will help boost your chances of winning.
Daily fantasy sports is less about luck and more about knowledge, which is probably one of the significant differences in the game itself.

Another crucial thing that places daily fantasy sports apart from sports betting is that no game relies on the performance of a single player or team.
Moreover, no daily fantasy sports game even hinges on the precise score of a single game, which is what most sports bets are usually about. From a legal standpoint, the part that skill plays in the success of daily fantasy sports constructs a significant discrepancy.
The preliminary federal law that rules out online gambling and makes it illegal in most states is the 1999 Internet Gambling Prohibition and Enforcement Act.
This law retains an explicit immunity for daily and season-long fantasy sports because the odds of winning a known payout are directly connected to players' knowledge and statistical understanding.
That said, many states that ban daily fantasy sports have online gambling laws that do not deliver such an exception for daily online fantasy sports games.
UIGEA and The History Of Online Gambling
The UIGEA or the 2006 Unlawful Internet Gambling Enforcement Act is responsible for why daily fantasy sports betting is legal. Basically, the UIGEA aims to handle the financial mediators (such as banks and other financial institutions) that serve as the financial connection between online gambling customers and online casinos.
However, the consequences of the UIGEA caused a severe impact on the online gambling industry, driving 3 of the industry heads to pull out of the US market instantly.
At the same time, some lost up to half of their market value. Yet, multiple companies have stayed firm and remain in business. The future of online gambling is not yet clear, but many (including Congressman Barney Frank of Massachusetts) are busily trying to legalize and control online gambling with congress.
Top Rated Daily Fantasy App
Underdog Fantasy is our pick for users looking to try a new and exciting daily fantasy sports experience.
Backed by Mark Cuban, Adam Schefter, Kevin Durant, Matthew Dellavedova, and more!
Use Paypal Or Any Popular Payments
$100 Money Back Guarantee (Terms & Conditions Apply)
24/7 Support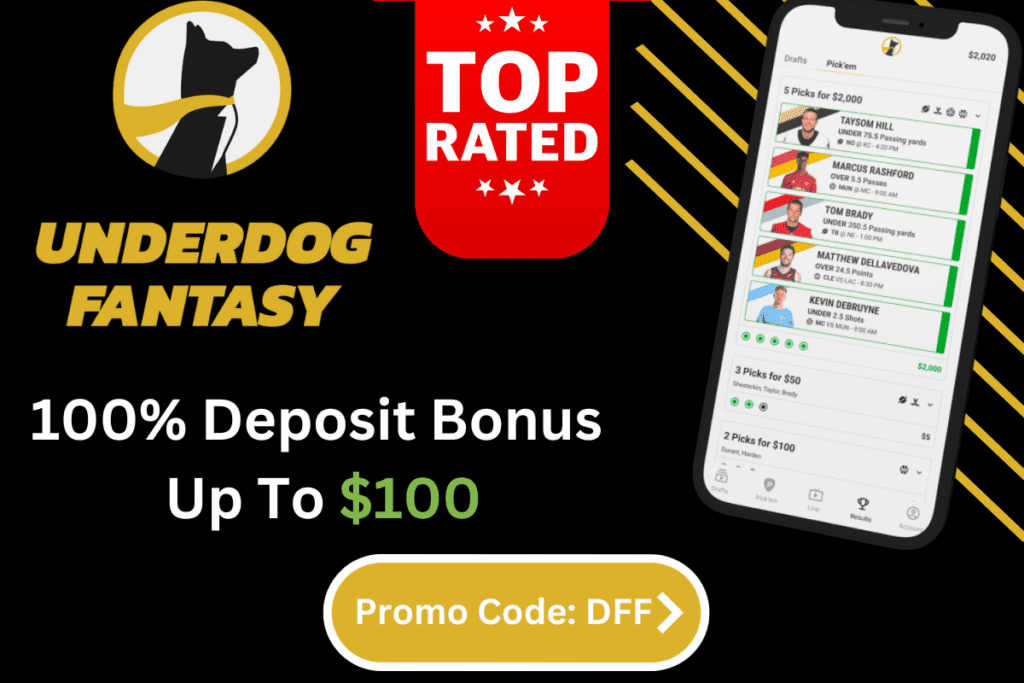 UIGEA's Position on Daily Fantasy Sports
With the UIGEA's position on online gambling, many wonder what their view is on Daily Fantasy Sports. And if this is you, then you will be happy to know that the UIGEA excludes fantasy sports from its description of online gambling, meaning that daily fantasy sport is legal.
However, there are a few prerequisites to this, which include:
Before the contest begins, awards and prizes must be confirmed and reported to the participants.
The number of participants in the game or the amount contained in fees must not define the worth of the prizes.
The winning result must not be based on a team's point spread, overall score, or overall performance.
The winning outcome must not be based solely on an exclusive performance of a specific athlete.
Why Prizepicks Daily Fantasy Sports is Not Considered Gambling
It is necessary to emphasize that the legal characterization of what involves gambling is defined at the state level.
This is why fantasy sports sites not only need to comply with the UIGEA but also meet with unique state laws.
So no, fantasy sports such as fantasy football are not considered gambling, therefore are legal. So as far as the UIGEA goes, betting on fantasy sports in places like Pizepicks is legal. This rightfulness is due to fantasy sports being seen more as a game of skill than luck.
What State Is Prizepicks Legal In?
Even though the UIGEA blankets all 50 US states, a few states formed their very own legislation (which considers fantasy sports illegal); these states include:
Montana
Arizona
Washington
Louisiana
New York
And this is because whenever state regulations (or laws) apply regarding fantasy sports, their rules precede the federal level.
This means PrizePicks daily fantasy sports are confined in certain states due to those regulations. Here's a list of the US states that currently still make it illegal to play Daily Fantasy Sports with PrizePicks:
Washington
Virginia
Tennessee
Pennsylvania
Ohio
New York
Nevada
New Hampshire
New Jersey
Maine
Maryland
Mississippi
Missouri
Montana
Louisiana
Idaho
Iowa
Hawaii
Delaware
Arizona
What's The Future of Fantasy Sports?
If you happen to be a fan of fantasy sports, then even though some states still see fantasy sports as a gambling game, the good news is that the future of this industry is quite bright.
The federal government presently chooses to leave complete control to the states, which drove Nevada and New Jersey to legislate laws permitting the legality of online gambling (including poker and casino games).
So if states such as Nevada and New Jersey can thrive from the legitimacy of online gambling, many other states may likely follow and legalize fantasy sports and different kinds of online betting.