PrizePicks is a mobile app that gives you the opportunity to bet on daily fantasy sports. Because of its ease of use, PrizePicks is an ideal option for those who are new to the daily fantasy sports betting world, as well as casual players. Even though the PrizePicks app isn't difficult to use, there is some terminology that first-time users may not be familiar with, and DNP is one of those.
DNP on PrizePicks simply means Did Not Play. This is an important term that any player on PrizePicks should know. When you receive a DNP, this means the game has been canceled or postponed, and your pick will not earn points.
Now that you know what DNP stands for, let's look at what exactly PrizePicks is and how DNP plays into this popular daily fantasy sports betting app.
Backed by Mark Cuban, Adam Schefter, Kevin Durant, Matthew Dellavedova, and more!
Use Paypal Or Any Popular Payments
$100 Money Back Guarantee (Terms & Conditions Apply)
24/7 Support
Use Promo Code 'DFF' For a Match Bonus Of Up To $100
Sportsbook, Casino & Racetrack All On One Platform
125% Sign-Up Bonus & 200% Crypto Bonus
Fast & Easy Deposits
24/7 Personalized Service 365 Days A Year
What Is PrizePicks?
PrizePicks makes betting on daily fantasy sports so easy that even those who have never played before can jump right in.
How it works is that you simply pick your over or under between 2 to 5 players. PrizePicks was founded in 2015 by Performance Predictions, and the company is led by Adam Wexler. Wexler is on the board of directors for the Fantasy Sports and Gaming Association.
What Sports Can I Bet On In The PrizePicks App?
PrizePicks offers a slew of different sports and leagues that players can bet on. These include the big guys, such as the NFL, NBA, NHL, and MLB. As well as MMA, WNBA, PGA, NASCAR, and women's and men's college basketball. You can also bet on eSports, soccer, boxing, cricket, tennis, disc golf, and so much more.
What Does DNP Stand For?
DNP stands for Did Not Play. What this means is that the game you betted on didn't occur. This could be due to the game being canceled, postponed, or simply didn't start at the correct time. If the pick is a DNP, then the entry will revert to the next payout.
The same action occurs if the pick ties with the projection. While DNP may sound like a scary acronym, especially when your hard-earned money is on the line, you are not out of your bet just because the game didn't occur.
Is DNP a Bad Thing In DFS?
When a daily fantasy sports game is listed as Did Not Play, it isn't necessarily bad or good. It is just something that happens at times when a game is canceled or postponed.
PrizePicks isn't the only sports betting app that a DNP can occur in. In fact, this can occur on just about any sports betting application, although how a DNP is handled varies from one company to the next.
PrizePicks, for example, simply reverts the bet to the next tier. This means the player doesn't lose out on their bet when a DNP occurs.
What Happens If a Player Gets a DNP?
In PrizePicks, if there is a DNP, that means the game has been canceled, postponed, or didn't start at the required time. When this occurs, the pick is canceled and the entry is reverted down to the next tier or payout. This goes for any of the sports that you can bet on in PrizePicks.
When the game has a DNP you do not lose out on your bet or your money. The bet is simply transferred to the next tier.
Top Rated Daily Fantasy App
Underdog Fantasy is our pick for users looking to try a new and exciting daily fantasy sports experience.
Backed by Mark Cuban, Adam Schefter, Kevin Durant, Matthew Dellavedova, and more!
Use Paypal Or Any Popular Payments
$100 Money Back Guarantee (Terms & Conditions Apply)
24/7 Support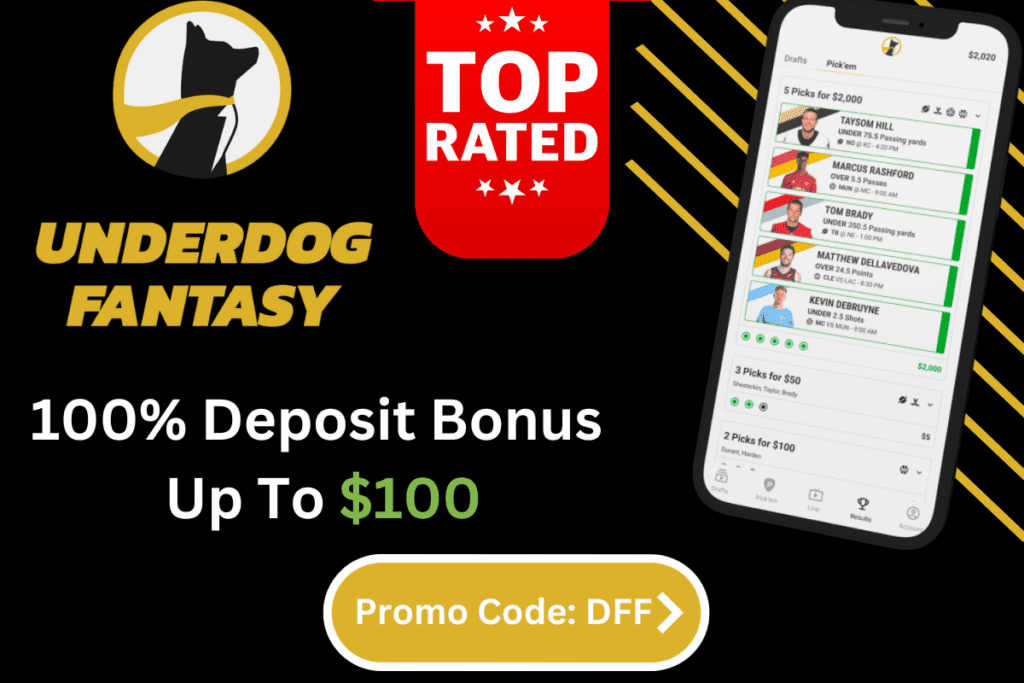 What Is PrizePicks Payout?
PrizePicks payout is what you earn when you win a game. This payout is added to your account where you can withdraw your winnings. You will, however, have to first play through your deposit and any promo funds you have in your account before you can withdraw your winnings.
An example of this is that you have $15 deposited and $15 in promo funds. You would need to play through a total of $30 before you can withdraw the winnings from your account.
Another thing to consider is that the minimum amount you can withdraw is $10 so you will need to win at least this amount before you can withdraw the money. PrizePicks offers two withdrawal methods; instant bank transfers (ACH) or card withdrawals.
Do PrizePicks Offer Refunds?
PrizePicks does offer refunds in certain instances. If the legality of the game is altered by the region, state, country, or district that the player lives in.
This also means that if PrizePicks changes the game available for your location. With that said, however, refunds will only be given if the pay-entry game has yet to start. You cannot, however, get a refund just because you changed your mind.
Will I Get a Refund For a DNP?
When a DNP appears, you will not get a refund. Instead, that play is simply switched to the next tier of the game. This action occurs in all of the sports that PrizePicks offers.
There are some instances, however, where you can obtain a refund. Although these instances do not have anything to do with a game being listed as DNP.
How Can I Request a Refund From PrizePicks?
If your situation fits one of the stipulations that allow for refunds, then you can request a refund by sending an email to [email protected]. Make sure to include "Refund Request" in the subject line of the email, as well as your full name, the amount that you would like refunded, and the reason why you want a refund in the body of the email.
Keep in mind, however, that the refund request must come from the same email address that you used to signup for your PrizePicks account. Once PrizePicks receives your refund request, they will review his request, which can take up to 14 business days.