Whenever people think of daily fantasy sports, FanDuel is bound to come up. It is a dedicated platform for DFS that was founded back in 2009 and, over the years, has paid almost $5 billion in prize money. Thanks to the refer-a-friend feature the app offers, even you can win up to $100 with ease.
If you are curious to know how to refer a friend on FanDuel, let me guide you.
FanDuel offers the refer-a-friend program you can earn by simply sharing the referral link. But first, you need to have a FanDuel account. Then log into your account and send the referral link to invite your friends to the app. For each friend that registers to FanDuel with the referral link, both you and your friend will earn a bonus.
This is the basic outline of how you can refer your friends to join FanDuel and earn a quick bonus. However, I understand if you need further details to guide you through the process. In the rest of the article, I have provided a step-by-step guide for the entire process and how you can claim the bonus.
Backed by Mark Cuban, Adam Schefter, Kevin Durant, Matthew Dellavedova, and more!
Use Paypal Or Any Popular Payments
$100 Money Back Guarantee (Terms & Conditions Apply)
24/7 Support
Use Promo Code 'DFF' For a Match Bonus Of Up To $100
Sportsbook, Casino & Racetrack All On One Platform
125% Sign-Up Bonus & 200% Crypto Bonus
Fast & Easy Deposits
24/7 Personalized Service 365 Days A Year
5 Simple Steps To Refer A Friend On FanDuel
No doubt, FanDuel is one of the world's most successful and popular Sportsbooks and fantasy sites. If you are a fantasy sports fan who's constantly on the go, the FanDuel app provides a wide range of daily contests you can check out. To keep users engaged, the site gives out insane amounts of prizes daily.
The refer-a-friend program lets you win a few extra bucks on FanDuel with ease among the many contests and prizes you can win.
Follow the following steps to refer a friend on FanDuel:
Step 1: Create An Account On FanDuel
If you are visiting FanDuel for the first time, you need to sign up and create your FanDuel account before anything. But if you already have an account, you can skip this step and move on to the next one.
To start, go to the FanDuel desktop website or the FanDuel App. Now either join the fantasy sports section or the sports section to begin the signup process.
Then click on the "Join Now" option to move on to the registration process. You need to enter your email address, pick a screen name, and decide on a password to sign up. Finally, after depositing some money into the new account, your FanDuel account should be ready.
Step 2: Log into FanDuel
Click on the "Log in" option in the app or the desktop website. You can log in to your FanDuel account by simply entering your email address and password.
Step 3: Locate the Referral Link
Your unique referral link should be on the main homepage when you have successfully logged into your account. Locate the "Refer a friend" icon to get the link and invite your friends.
Step 4: Share the Referral Link with Your Friends
Copy the link and send it to your friends via SMS or other social media platforms. You can send the link to one or multiple friends.
Step 5: Have Your Friend Use the Link to Sign up for a FanDuel Account
Finally, your friend (or friends) will need to use the link to sign up for a new FanDuel account. When they successfully create a new account using the link and make a bet, both you and your friend can claim your bonus.
See The Complete FanDuel Guide & Review Here
Top Rated Daily Fantasy App
Underdog Fantasy is our pick for users looking to try a new and exciting daily fantasy sports experience.
Backed by Mark Cuban, Adam Schefter, Kevin Durant, Matthew Dellavedova, and more!
Use Paypal Or Any Popular Payments
$100 Money Back Guarantee (Terms & Conditions Apply)
24/7 Support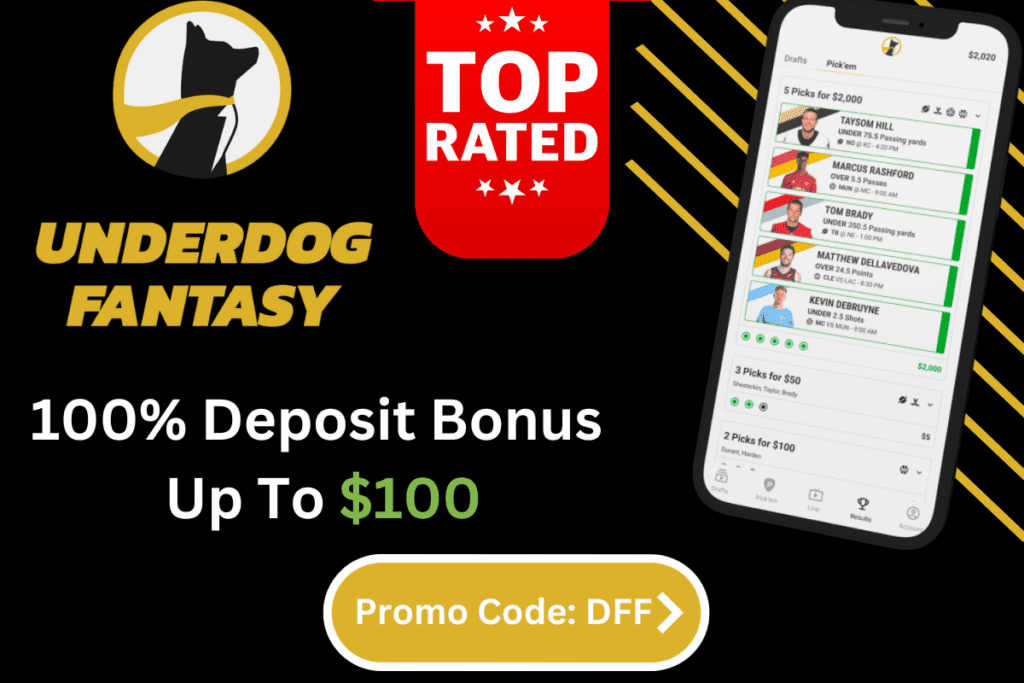 How Can You Claim the Referral Bonus?
To get new players, daily fantasy sports platforms offer cash bonuses so existing users can get their friends to sign up for the site. One of the best referral bonuses provided by FanDuel, allows you to earn up to $100 over time. When you have obtained your unique referral link, you can share it with your friends to claim the bonus.
After your friends receive the link, they can sign up and create a new FanDuel account using it and become verified on the website. Then, within 28 days of signing up, your friend will need to deposit at least $10 into the account. You and your friend can earn $50 for the Sportsbook and the casino within 72 hours of your friend placing a bet for each referral.
You can claim the referral bonus only after your friend has placed a wager. Furthermore, there's a bonus cap of $500, and you can only obtain ten referral bonuses max.
Requirements You Need to Meet to Claim the Bonus
At this point, you should know all the processes for how you can refer a friend on FanDuel and how to claim the bonus. But if you are not eligible for the bonus to begin with, knowing all these can be useless. All patrons must meet a few terms and conditions if they wish to claim the refer-a-friend bonus on the platform. They are:
Both the referrer and referee must have registered and verifier accounts at FanDuel.
The refer-a-friend program is only open to the applicants who sign up using the unique referral link shared by a referrer.
The referee must be at least 21 years old and live physically in Michigan, New Jersey, or Michigan.
The referrer can claim the bonus amount only if the referee signs up using their unique referral link. Within 28 days of registration, the referee will also need to wager a minimum amount of $10.
The referrer will receive the referral bonus within 72 hours of the referee placing a bet on the website.
A user is limited to a maximum of 10 sportsbook or fantasy sports referrals and can claim up to $500 as a referral bonus.
Is FanDuel A Legal Service?
FanDuel has grown to be one of the most popular and extensive online platforms for daily fantasy sports.
The service offers a wide variety of fantasy sports and other contests to avoid getting stuck with a single fantasy team for a long time. The platform may provide a fantastic service, but the question remains as to whether it is a legal service or not.
Fortunately, FanDuel is a legal service as fantasy sports are deemed an exception in the Unlawful Internet Gaming Enforcement Act (UIGEA). In the law, fantasy sports is seen as a game of skill instead of a game of chance. So virtually in every state, anything close to a fantasy sport is considered a game of skill.
However, some states still have the power to impose their laws against the game and have done it as well.
That is why you may not be able to use the service if you are from Arizona, Alabama, Hawaii, Iowa, Idaho, Louisiana, Montana, Texas, Nevada, and Washington. You will have no trouble playing on FanDuel if you live in the other 80% of the United States.
Conclusion
FanDuel has a referral bonus through which existing users can invite their friends for cash prizes to attract new users. I hope the article has helped you understand the process of referring a friend to Fanduel. Now that you know how to refer a friend on FanDuel, both you and your friend can avail all the extra bonuses.