DFS is a hot topic nowadays. If you like sports and betting, it can be a game of endless thrills. The best part of it is managing your lineup. It takes skill. One of the newer and popular DFS sites is DraftKings. They expanded to sports betting as well. Here is all you need to know about DraftKings Sportsbook.
DraftKings launched its Sportsbook in 2018, and it gained a lot of popularity. They offer a lot of markets, an intuitive UI, and mobile apps. Plus, there are a lot of deposit and withdrawal options as well. However, the odds are pretty average.
That is only a brief overview of all there is. Let's get into it with a lot more detail. I will talk about the features, rules and also the bonuses you get. By the end of this article, you should have a pretty good idea about it. I will divide it into sections to make it easier to understand the bigger picture.
Backed by Mark Cuban, Adam Schefter, Kevin Durant, Matthew Dellavedova, and more!
Use Paypal Or Any Popular Payments
$100 Money Back Guarantee (Terms & Conditions Apply)
24/7 Support
Use Promo Code 'DFF' For a Match Bonus Of Up To $100
Sportsbook, Casino & Racetrack All On One Platform
125% Sign-Up Bonus & 200% Crypto Bonus
Fast & Easy Deposits
24/7 Personalized Service 365 Days A Year
DraftKings Sportsbook History
DraftKings was launched in 2012. It was a fantasy betting site. Within just a couple of years, the site has grown a lot in popularity and its offerings.
The Sportsbook was launched in 2018. You can enjoy a lot of markets from almost all over the US. The site's ease of use and its convenient withdrawal methods, plus generous bonuses, make it quite an attractive sports betting site.
What Markets Are Available DraftKings Sportsbook?
A sign of a good sportsbook is the number of markets it offers. It is pretty simple. The more markets there are, the more options it has. DraftKings offers over 20 markets to bet on.
That is quite an impressive number. Since the site has quite an intuitive design, finding your desired market and sport is a piece of cake. All of it is neatly listed on the left-hand side of the site.
You can easily find popular mainstream sports and more. Sports like baseball and ice hockey are a few of them, to name a few. It does not, however, only feature mainstream sports.
Less popular sports like volleyball and cycling are available too. Another great thing about their selection is the wealth of leagues and divisions in each of the sports. There are over a whopping 70 different leagues for soccer.
The site even has a fantastic range of college football and basketball markets. Player props and game prop bets like over/unders and money line are there too. You will not feel a lack of choice.
See The Complete DraftKings 2021 Review & Guide Here
DraftKings Flash Bet
Flash Bet is DraftKings' in-play wagering system. It is quite a good one compared to other betting sites. And I would go as far as to say that it is one of their strengths. If you want to place short-term wages, Flash Bet is something you will love.
This can be done right when the game is in progress. Games like Tennis are a prime sport for Flash Bets. The statistics and data they give you on the live markets help you make a more informed bet. That is always something nice.
DraftKings Sportsbook Odds
Whenever there is betting involved, naturally, the question of odds will pop up. So, what about the odds of DraftKings Sportsbook? The thing about odds on any sportsbook is it depends on events.
A single sportsbook cannot give you competitive odds on all events. But, in general, the odds-on DraftKings' Sportsbook is pretty competitive. However, I will not say that this is their most vital point.
Some top betting sites may give you better odds on specific events, as I mentioned earlier. So, it is worth checking them out and making a comparison. The odds are pretty average and should not be a turn-off given how great all its other features are.
Top Rated Daily Fantasy App
Underdog Fantasy is our pick for users looking to try a new and exciting daily fantasy sports experience.
Backed by Mark Cuban, Adam Schefter, Kevin Durant, Matthew Dellavedova, and more!
Use Paypal Or Any Popular Payments
$100 Money Back Guarantee (Terms & Conditions Apply)
24/7 Support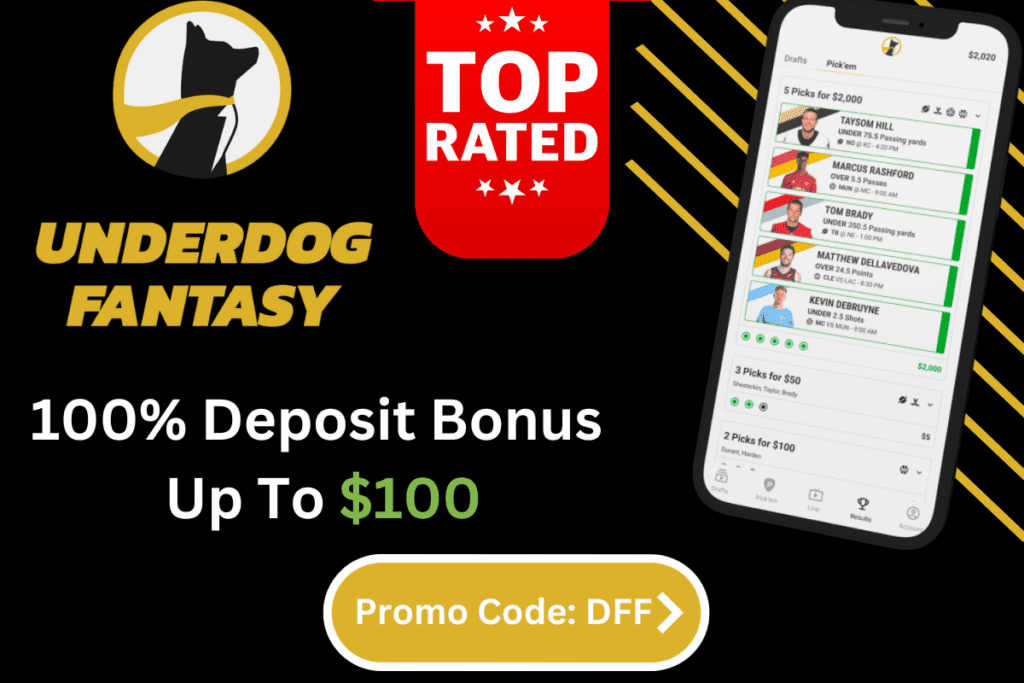 Deposits And Withdrawal
Seamless deposit and withdrawal methods make the experience much more convenient and frictionless. Experienced bettors love an excellent deposit and withdrawal process. The same can be said for beginners as well.
Thankfully DraftKings is not behind in this area. There are multiple deposit and withdrawal methods you can choose from. You are sure to find one that is convenient for you.
Deposit Methods:
Debit Card
Credit Card
Bank Transfer
PayPal
Cash
Wire Transfer
Withdrawal Methods:
There are the minimum and maximum deposit/withdrawal limits. The withdrawal and deposit times may differ depending on your method.
The minimum deposit for all methods is at least $5. The maximum for deposits is $2000 for all forms. And withdrawal has a maximum cap of $20 for all plans. Here is a table for the deposit and withdrawal processing times. Again, it depends on the method you use.
| | |
| --- | --- |
| Method | Processing Time |
| Debit Card | Instant |
| Credit Card | Instant |
| Bank Transfer | Instant |
| PayPal | Instant |
| Cash | 1 – 5 Days |
| Wire Transfer | Instant |
If you're looking to withdraw your money, below are the withdrawing processing times.
| | |
| --- | --- |
| Method | Processing Time |
| PayPal | 3 – 5 Business Days |
| Cash | 1 Hour |
| Bank Transfer | 3 – 6 Business Days |
Live Streaming And Parlay Bets
Just like any other sportsbook, DraftKings also has some things that it can improve upon. For example, live streaming. It does not have a rich selection as of yet. There are just a few selected events. It is not that diverse.
Although you can use the mobile app to view the live stream, that is quite convenient. To stream, your account balance must be greater than zero. Also, you need to be logged into your account.
Unlike live streaming, DraftKings's parlay bets section is excellent. The Sportsbook allows you to combine bets. It can be done by using a different market on a single match. This will also increase your odds. That is something, of course, quite remarkable.
Mobile App, Desktop Site, And Interface
A good sports betting site should be intuitive to use. The interface should be easy to understand, and all the elements need to be laid out. Fortunately, that is exactly what you get with the DraftKings Sportsbook.
I love how easy it is to find all the markets. As I mentioned before, all of it is on the left-hand side of the site.
DraftKings has a mobile app as well. DraftKings puts more focus on the mobile betting aspect. So, it is no surprise that its app is phenomenal. It is super easy to use and very intuitive.
The home page will give you a list of available offers. That is something nice and makes sure users do not miss out on any exciting offers. Plus, I have to mention the easy navigation. All in all, both the desktop version of the site and the app are great.
There are two things you need to keep in mind, though. The mobile site is only available through the app. That means you cannot access it with your phone's web browser. That might be a bummer for some.
But given how great the app is, it should not be a problem. The popups were also a minor annoyance for me. They come up on the left of the screen. So, it can get in the way of the picks. Nonetheless, all these are minor inconveniences.
Contact DraftKings
There you have it. Now you should have a pretty solid idea about DraftKings Sportsbook. It has a ton of cool features, and more importantly, it's super easy to use. Thanks to the intuitive desktop site and excellent app, the ease of use is relatively high.
The customer service is excellent as well. You can reach them by calling +1 (877) 659-6066. Or you can also shoot them an email at [email protected]. And, of course, there is a live chat function as well. Live chat hours are between 6 AM EST and 11:59 PM EST. All in all, DraftKings's Sportsbook is pretty good.